Area College Students Honor Mandela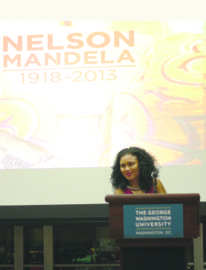 Mandela's death at the age of 95 resulted from a respitory problem. He's survived by his wife, Graca Machel, his former wife, Winnie Madikizela-Mandela and three daughters Pumla Makaziwe, Zenani and Zindziswa Mandela.
Students from various ethnic and cultural organizations celebrated Mandela's life throughout much of Wednesday evening at American University in Northwest. Alexis Adams, president of the university's Black Student Alliance (BSA), said Mandela's vision lives on in her organization's work to integrate students of color into the larger university community.
"Nelson Mandela's vision was to build community," said Adams, 20. "The majority of the campuses [in the area] excluding Howard are predominately white institutions. Even though there is a diverse student body at American University, it's clear that certain student groups aren't integrated into the campus. Typically, when there are different organizations that co-sponsor events, it's just the black organizations. It's never a larger community. This event has done just that."
Senzwa Ntshepe, a GW student whose family shares a tribal affiliation with Mandela, said that the deceased leader's relentless fight for equality has inspired his course of studies, during his short remarks before more than 20 of his peers at the GW Black Student Union's holiday soiree at The George Washington Williams House in Northwest on Friday, Dec. 6.
"Mandela was courageous beyond measure. He was a model for conviction and clarity in purpose," said Ntshepe, 21. "When he came home after 27 years in prison, he vigorously worked to negotiate with world leaders and free his people of apartheid and subjugation. Today, the status quo is the revolutionary because the world is much better than it was decades ago," said Ntshepe who lives in Philadelphia.
Other local events this past week included a student-led candle light vigil in front of the South African Embassy in Northwest and a lecture featuring professors who had worked with Nelson Mandela.
"Without the vision and intellect of Nelson Mandela, organizations like the GW Black Student Union would struggle with identity and purpose," said Danica Brown, 21, president of GW's BSU.
"His name has become synonymous with equality, and freedom. Even though he has left us, his words, memories and accomplishments are eternally etched as a part of our history," said Brown, a senior at GW who lives in Mount Vernon, N.Y.