Books by Nelson Mandela
12/11/2013, 3 p.m.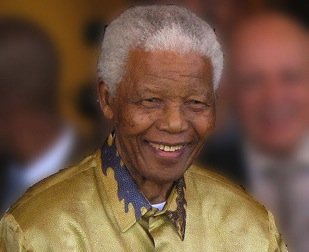 LONG WALK TO FREEDOM
The book that inspired the major new motion picture "Mandela: Long Walk to Freedom."
Nelson Mandela is one of the great moral and political leaders of our time: an international hero whose lifelong dedication to the fight against racial oppression in South Africa won him the Nobel Peace Prize and the presidency of his country. Since his triumphant release in 1990 from more than a quarter-century of imprisonment, Mandela has been at the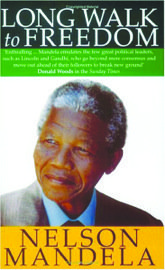 center of the most compelling and inspiring political drama in the world. As president of the African National Congress and head of South Africa's anti-apartheid movement, he was instrumental in moving the nation toward multiracial government and majority rule. He is revered everywhere as a vital force in the fight for human rights and racial equality.
"Long Walk to Freedom" is his moving and exhilarating autobiography, destined to take its place among the finest memoirs of history's greatest figures. Here for the first time, Nelson Rolihlahla Mandela tells the extraordinary story of his life--an epic of struggle, setback, renewed hope, and ultimate triumph.
Nelson Mandela is widely considered to be one of the most inspiring and iconic figures of our age. Now, after a lifetime of taking pen to paper to record thoughts and events, hardships and victories, he has bestowed his entire extant personal papers, which offer an unprecedented insight into his remarkable life.
CONVERSATIONS WITH MYSELF
A singular international publishing event, "Conversations with Myself" draws on Mandela's personal archive of never-before-seen materials to offer unique access to the private world of an incomparable world leader. Journals kept on the run during the anti-apartheid struggle of the early 1960s; diaries and draft letters written in Robben Island and other South African prisons during his twenty-seven years of incarceration; notebooks from the post-apartheid transition; private recorded conversations; speeches and correspondence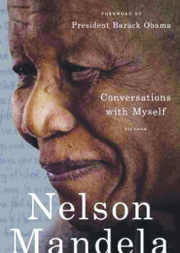 written during his presidency—a historic collection of documents archived at the Nelson Mandela Foundation is brought together into a sweeping narrative of great immediacy and stunning power. An intimate journey from Mandela's first stirrings of political consciousness to his galvanizing role on the world stage, "Conversations with Myself" illuminates a heroic life forged on the front lines of the struggle for freedom and justice.
While other books have recounted Mandela's life from the vantage of the present, "Conversations with Myself" allows, for the first time, unhindered insight into the human side of the icon.
I AM PREPARED TO DIE
In 1962-1964, Nelson Mandela was charged with opposing the white government of South Africa; a charge considered high treason that had tied to it, the additional charges of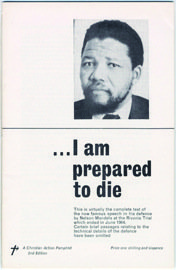 sabotage, and conspiracy to overthrow the government. In his defense, Mandela gave a speech titled "I am Prepared to Die" at his trial. This speech is powerful and full of literary devices. In parts of this potent speech he utilizes facts, statistics, and allusions as a tool to his defense.