Celebrities Mourn Nelson Mandela
12/11/2013, 3 p.m.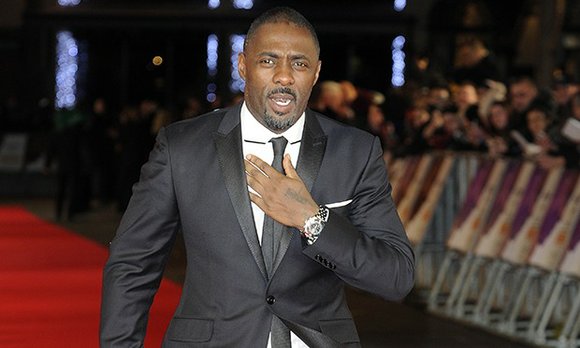 Idris Elba should easily claim the upcoming Academy Award for Best Actor simply based on his deft portrayal of Nelson Mandela in his latest film, "Mandela: Long Walk to Freedom," industry insiders said.
Following the death of the anti-apartheid hero, the former star of HBO's critically-acclaimed drama, "The Wire," now has emerged as the sentimental favorite to win the coveted award.
"What an honor it was to step into the shoes of Nelson Mandela and portray a man who defied odds, broke down barriers, and championed human rights before the eyes of the world," said Elba, 41.
"My thoughts and prayers are with his family."
Elba first learned of Mandela's death on Dec. 5, following the British premiere of the new film about the freedom fighter's life in London.
He said emotions quickly overcame him and he broke down upon hearing the news. "It was painful," Elba said.
Critics have hailed Elba's portrayal of Mandela as, "extraordinary," "spectacular," and "Oscar-worthy."
If Mandela's death hasn't yet evoked enough sympathy from Academy voters who often allow sentiment to dictate their choices, Elba's own recent tragedy may have helped to guarantee him the trophy.
The actor, who also portrays Chief Inspector John Luther in the BBC television series, "Luther," lost his father to lung cancer just eight weeks ago.
"I based my portrayal of Mandela on my own dying father," he said of Winston Elba, who died in October at age 76. "I used my dad's African accent to help me speak like Mandela in the movie," he said.
Meanwhile, actor Morgan Freeman, who also portrayed Mandela in the 2009 big screen drama, "Invictus," said the late president will always be remembered as one of the most respected global icons in history.
"The world has lost one of the true giants of the past century. Nelson Mandela was a man of incomparable honor, unconquerable strength, and unyielding resolve – a saint to many, a hero to all who treasure liberty, freedom and the dignity of humankind," said Freeman, 76, whose performance alongside superstar Matt Damon in the Clint Eastwood-produced film, also earned raves reviews.
Based on the 2008 book, "Playing the Enemy," by John Carlin, "Invictus," chronicled Mandela's efforts to unite post-apartheid South Africa by hosting the 1995 World Cup, which took place four years after Mandela's release from prison and just a few months into his presidency.

"As we remember his triumphs, let us, in his memory, not just reflect on how far we've come, but on how far we have to go," Freeman said. "Madiba may no longer be with us, but his journey continues on with me and with all of us."
Other celebrities also were quick to issue statements expressing their sorrow over Mandela's death and many expressed their reverence for him.
"His wisdom and goodness were the brightest stars in our moral galaxy," said singer, songwriter and social activist, Harry Belafonte.
"His courage inspired us all who struggled for justice. His vision gave sight to those who otherwise might have been blinded by hate," said Belafonte, 86.