D.C. Political Roundup: Ward 5 Group Holds Mayoral Forum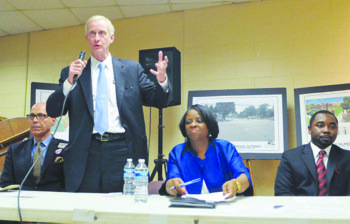 Six contenders for the Tuesday, Apr. 1 Democratic Party's mayoral nomination stated their cases during a forum that can best be described as dull and lacking in substance.
D.C. Council members Jack Evans (D-Ward 2) and Vincent Orange (D-Ward 5) addressed a crowd of 70, along with fellow candidates Andy Shallal, Christian Carter, Reta Jo Lewis and Mike Green on Dec. 5 at the Israel Baptist Church in Northeast. Mayoral hopefuls D.C. Council members Muriel Bowser (D-Ward 4), Tommy Wells (D-Ward 6) and D.C. Mayor Vincent Gray did not attend.
Denise Rolark Barnes, the publisher of the Washington Informer, moderated the two-hour event, sponsored by the Premier Community Development Corporation also located in Northeast.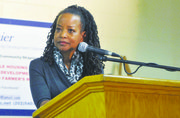 Evans, 60, said that he played a major role in the city's transformation from an economic basket case in 1991 to the booming metropolis that attracts thousands each month to the District today.
"I have a tremendous record of accomplishment since I have been on the council," he said. "As your mayor, I will work on bringing affordable housing to the city. I support extending rent control for the next 10 years and for homeowners, I want property tax relief for seniors."
Orange, 56, stopped by and stayed for 15 minutes. He said that during his years on the D.C. Council, he helped Ward 5 improve by upgrading recreation centers, bringing new retail outlets to the ward, and modernizing schools such as McKinley Tech High School in Northeast.
Lewis, 60, insisted as mayor, she would make affordable housing a priority. She further said gentrification has presented problems for many District residents.
"The losers with regards to gentrification are the long-time residents because they are being pushed out of the city," she said.
Shallal, 58, likened the District to Charles Dickens' classic, "A Tale of Two Cities," one that's prospering and the other – mired in poverty.
"If this city was a business it would be doing great but it is not a business, it is a social contract with the people," he said.
Carter raised eyebrows when he credited the late D.C. Mayor Walter Washington with creating the summer youth employment program instead of former four-time Mayor Marion Barry. Barry, 76, a D.C. Council member who currently represents Ward 8 in Southeast, created one of the most comprehensive summer job programs for young people in the nation that has served as a model for other cities.
Carter vehemently disagreed.
"My aunt helped Walter Washington create that program," he said to groans from the audience. "That is why I am running so that I can set the record straight."
Ward 5 resident Vernon Preston said that the forum was OK but wanted more substantive responses from the candidates.
"They hit on a lot of issues but I would have liked for them to talk more about transportation," said Preston, 29. "The candidates were a mix of the well-known to the up-and-coming but this forum did not help me make up my mind [as to who I will] support."
Catania Forms Exploratory Committee
On Dec. 3, D.C. Council member David Catania (I-At Large) told the Informer that he does in fact have political plans for 2014.
"Stay tuned," Catania, 45, said with a wide grin.
Later that week, it was reported that Catania has launched an exploratory committee to consider running as an Independent for District mayor in the November 2014 general election. Published reports also said that former D.C. Council member Sharon Ambrose will serve as chair of the committee.
Catania would have to give up his council seat to run for mayor.
If he's successful next November, Catania would be the first white elected mayor of the District and its first openly gay chief executive.