D.C. Officials Release School Equity Reports
Dorothy Rowley | 12/11/2013, 4:58 p.m. | Updated on 12/18/2013, noon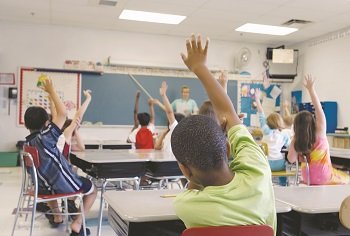 Joint efforts by agencies responsible for public education in the District, offer new reports that they say are reliable in helping parents to draw comparisons between traditional and charter schools.
According to a statement from the District of Columbia Public Schools (DCPS) system, the first-ever joint "District of Columbia School Equity Reports" provide transparent academic and discipline trends at DCPS and District charter schools that developed from measures that include academic performance, attendance, discipline, and withdrawals.
"Coupled with our school profiles pages, these new reports empower parents with accurate, reliable information to help them make the right choices for their [children]," said DCPS Chancellor Kaya Henderson. "I want parents to look to us to provide the transparent, robust, comparable data we know they often need. I'm proud of these reports and glad we can provide another tool to inform the community."
While critics who compare public schools to highly-favored charters have been less supportive of public education, a study released this past summer involving 26 states, suggests that while charter schools have made modest gains in student performance, they have yet to surpass their traditional counterparts on standardized reading and math tests.
The two-part, citywide reports, released on Dec. 11 and which are supported by the innovative, California-based non-profit New Schools Venture Fund, also helps District educators establish a clear view of how different public schools serve a range of students.
In doing so, officials from DCPS, the Public Charter School Board (PCSB), Office of the State Superintendent of Education, and the deputy mayor for education – worked in collaboration for several months earlier this year aligning various data that established comparable performance measurements for all of the city's schools.
Featured measurements include school demographics; percentages of students with disabilities; test performance surrounding specific student groups; absenteeism; and suspension, expulsion and withdrawal rates during the 2012-13 academic year. In addition, the school-by-school reports show how both charters and DCPS have narrowed or closed black-white achievement gaps.
Scott Pearson, PCSB executive director, said that other schools in the region looking to improve their measurements have good examples within reach.
"I'm proud of the 109 individual public charter schools that worked to align metrics with our DCPS colleagues so that parents and the public have valid information to compare school and student performance," Pearson said. "The equity reports show a strong, viable sector of public charter schools that are achieving strong results while serving a student population that mirrors the District."
Jesús Aguirre, acting superintendent of education, added that the reports are vital for helping parents determine which school system is better for their children.
"Our goal is to empower District families with reliable information and tools to improve their children's educational outcomes; and the first-ever equity reports – will serve to assist us in achieving that purpose," said Aguirre, a former District Department of Parks and Recreation director who looks forward to being permanently installed in February.
Deborah Allgood of Northeast said however, that until the reports' reliability have been proven, their validity remains questionable.
"I haven't seen the reports, but I'm hopeful that [school officials] at the charters and public schools will use the data from them to move the schools forward, rather than to use it to force parents to say that one system is better than the other," said Allgood, 28, the mother of a DCPS 3rd-grader. "In my opinion, both [systems] exist in the first place, because they each have unique offerings that parents are looking for and that students need to be successful in their [studies]."
The full reports are available at LearnDC.org. Individual school results are also available on the PCSB and DCPS websites.