Dr. Keisha Robinson at Home in Southeast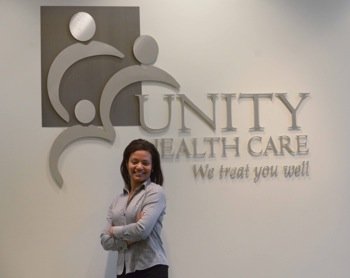 As a child growing up in Congress Heights, Keisha Robinson wasn't oblivious to the decay that punctuated the Ward 8 neighborhood, located south of Anacostia.
Today, as an adult, Robinson, a doctor and regional director of medical education for Unity Health Care, Inc., in Southeast, remains conscious of the needs of those in one of the District's poorest and most underserved communities.
"I actually spent the majority of my adolescent years in Ward 8. I was informed by my grandmother at a young age, that I was going to be a physician," said Robinson, 39, who earned a Doctor of Osteopathy degree from the New York College of Osteopathic Medicine after graduating from Hampton University in Virginia with a Bachelor of Arts degree in biological sciences.
"I used my grandmother as one of the main reasons I entered the medical field. She was a diabetic, she suffered a stroke, a heart attack and she was an amputee," Robinson said.
"Having a close relative go through that helped to shape what I wanted to do with my life, which is to help prevent some of those complications that were preventable."
Robinson said she felt the need to return to Southeast after seeking osteopathic residencies that didn't exist in the District as late as 2001.
"So, I completed my residency at Georgetown University and they aligned me with Unity Health Care, which was a treat, the icing on the cake for me," she said. "I've been with Unity for 9 ½ years and it has been very rewarding."
Since 2004, Robinson has practiced a full spectrum of family medicine, including obstetrics at Unity Health Care, a federally qualified health center network that serves a diverse population of underserved, uninsured and working residents in Washington.
A Unity spokesperson said that, as a servant of the community and an advocate for the underserved, Robinson has been the medical director for two of the organization's health centers since 2009 and she's also served as the associate vice president of medical support.
"As I learned more about medicine, I knew I wanted continuity and I wanted the relationship with my patients' complete family," Robinson said.
Recently, Robinson took on the role of regional director of medical education at Unity's new Parkside campus in Northeast, where she oversees the A.T. Stills University School of Osteopathic Medicine and Unity Health Care medical students.
In her new role, Robinson said she hopes to continue mentoring family medicine residents in hopes of exposing physicians in training to the "true essence of community medicine."
Founded in Mesa, Ariz., the A.T. Stills University School of Osteopathic Medicine developed a partnership in 2007 with the National Association of Community Health Centers in Bethesda, Md.
The collaboration allowed 11 different community health centers to become medical school campuses. The first graduating class emerged in 2011.
At A.T. Stills, first year medical students complete 90 percent didactic and 10 percent clinical requirements at the Arizona campus.
Upon completion of their first year, the students move to their assigned community health center campus where they complete the remainder of their medical school education.
In August, Unity Health Care became the latest medical school campus, welcoming 10 students at the new Parkside Health Center.
"The ultimate vision in building this partnership is to promote the development of future homegrown physicians," Robinson said.
For patients, being treated by a physician who hails from their own neighborhood, it often proves comforting and it helps to develop a strong sense of community and trust, officials said.
"My patients have been with me for nine years and it's very important to patients when they realize that you are homegrown," Robinson said.
"I remember when a few of my patients first realized that I was from Southeast. They were shocked, impressed and some of them said they were inspired. They take a step back when they hear that you're from their neighborhood."