JESSE JACKSON: Mandela Showed the Power of Unearned Suffering
Jesse L. Jackson Sr., Special to The Informer | 12/11/2013, midnight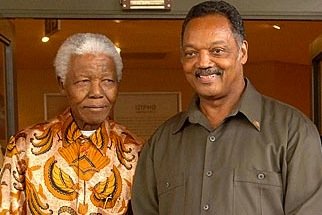 The union movement — led by Bill Lucy and the Coalition for Black Trade Unions, by the American Federation of State, Country and Municipal Employees (AFSCME) and by the AFL/CIO — mobilized to demand change.
In 1984 and 1988, my presidential campaigns called for sanctions on South Africa as a rogue nation. At the Democratic conventions, I called our kinship with South Africa a moral disgrace, forcing Democrats finally to speak clearly. As legislators began to get arrested in front of the South African embassy, colleges and pension funds began to disinvest. Businesses felt the heat.
Finally, Congress overturned a Reagan veto and imposed sanctions. And the apartheid regime realized that the future was largely in the hands and heart of Nelson Mandela.
Nelson Mandela and Dr. King are no longer here to lead, but their example and their vision continue to show the way. Now in the U.S. and in South Africa, apartheid has been defeated, but racial exclusion is supplanted by economic disparity. We are free but not equal. There is a growing gulf in income, opportunity, education, health care and access to capital. Nelson Mandela and Dr. King led us a long way, but we have miles to go before we rest.
Keep up with Rev. Jackson and the work of the Rainbow PUSH Coalition at www.rainbowpush.org.