Nationals Showcase New Youth Baseball Academy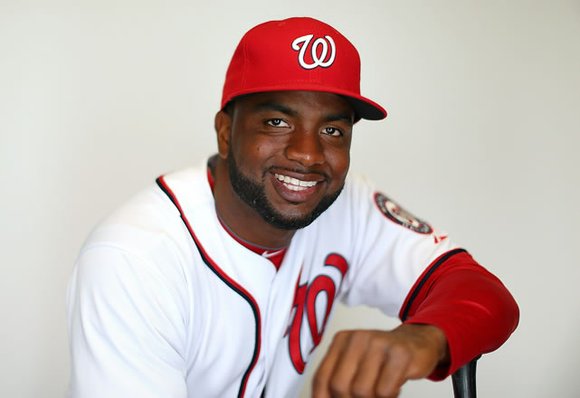 The Washington Nationals' commitment to young and aspiring District area baseball fans has perhaps never been more evident than team officials showing off a new 18,000-square-foot training facility at Fort DuPont Park in Southeast.
The facility is part of the Nationals Youth Baseball Academy.
After members of the media toured the facility last month, team officials and two of its star players, lefty Ross Detwiler and outfielder Denard Span, visited the sprawling campus on Monday, Dec. 9, with the academy's scholar-athletes who are enrolled there.
"The academy has been entrusted with a great responsibility," said Tal Alter, the executive director.
Alter, 37, a District native and Harvard graduate, also worked for five years as director of operations for PeacePlayers International in Northwest, a nonprofit that uses basketball as a vehicle to bridge divides, change perceptions, and develop leaders in areas of conflict.
He also worked for six years with Positive Coaching Alliance, a Stanford University-based organization that's focused on transforming the culture of youth sports.
"Our responsibility is to provide [District] youth with a home away from home and a place where they can develop through constructive, nurturing and fun experiences with baseball and academics," Alter said.
In an effort to spread holiday cheer throughout the region, the Nationals kicked off a series of community events in which team officials described as, "A Week of Giving," which started on Monday and concludes Saturday, Dec. 14.
The participation of Detwiler, 27, and Span, 29, counted as an attempt to further encourage young people to work hard academically and to excel in baseball, team officials said.
Ian Desmond, the Nationals' standout shortstop who also sits on the academy's board of directors, said the community and aspiring baseball players should soon recognize the importance of the new facility and the curriculum it offers.

"I've known a lot of young people in my life that would have benefited from a program like this," said Desmond, 27. "I look forward to contributing to the Youth Baseball Academy and doing my part to make sure children around D.C., have the opportunities to succeed, on and off of the baseball diamond."
All week, Nationals players as well as members of the front office have participated in activities aimed at giving back to the local community while also celebrating the spirit of the holidays, team officials said.
Even the team's mascot, Screech, planned to provide laughs and excitement to fans throughout the week, beginning with a scheduled visit to young patients at the Lombardi Cancer Center at MedStar Georgetown University Hospital in Northwest.
Detwiler and Span also vowed to team with Screech at the hospital, for an event that's in partnership with the Hope for Henry Foundation, a Northwest nonprofit which seeks to improve the lives of children with cancer and other serious illnesses by providing carefully chosen gifts and specifically-designed programs to entertain and promote comfort, care and recovery.
Several Nationals' employees also teamed with personalities from radio station, 106.7 FM, "The Fan," at several scheduled holiday activities this week, including distributing toys to military families and laying wreaths at Arlington National Cemetery.
Team officials said the enthusiasm for the baseball academy has been a catalyst to what's shaping up to be a fun holiday season.
Developed in partnership with the District of Columbia, the Youth Baseball Academy will operate as a year-round development program that's committed to teaching the fundamentals of baseball and softball.
The complex features three baseball fields, batting cages, eight classrooms, administrative offices, meeting rooms and an 18,000 square foot training facility, while also providing after school and summer educational programs for youth in neighborhoods east of the Anacostia River.
In October, the after school program launched at nearby Kimball Elementary School in Southeast, which also serves as the temporary location for the academy until the permanent facility opens in January.
The academy has been designed to accommodate a maximum of 45 students per level from third through eighth grades. While it's currently open after school, programs will be available from 9 a.m. to 4 p.m. during summer months.
"This opportunity is both exciting and humbling," Alter said.
"The scholar-athletes who come through our doors deserve the very best, and they will get nothing less."