Mandela's Legacy Looms Large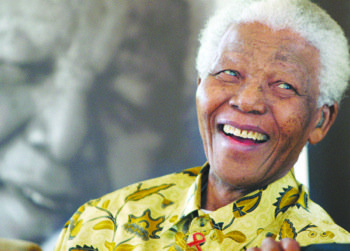 Since South African human rights icon Nelson R. Mandela died, a steady stream of people of all shades and ethnicities have been making pilgrimages to the South African embassy on Massachusetts Avenue in Northwest D.C. to pay homage.
Embassy officials set up tables around a statue of Mandela, and less than a day after his death on Dec. 5, bouquets of flowers were piled high at the base of the statue. Individuals, couples, a group of schoolchildren, and others trooped to the makeshift shrine on a wet, grey day.
Sean Carter was one of those who took time out of his day to pay his respects.
"His is one life dedicated to the struggle and now his enemies praise him. That's the sign of a righteous fighter, when your cause is just," said Carter, a 45-year-old tractor trailer driver who lives in Northeast. "It hurts but he's gone to a better place."
Carter recalled being one of the many protestors who came every day for months and years to the embassy to raise their voices against the actions of the white minority government and the apartheid system that it used to kill, maim and imprison anyone who opposed it.
"I was a member of the Student Coalition Against Apartheid and Racism while a student at Montgomery College when I got in the protests at the embassy," said Carter. "It was really through the issues of South Africa that I became more conscious and aware. I heard about Nelson Mandela, Thabo Mbeki, Winnie Mandela and the Pan African Congress."
"It was the first time I ever got arrested for doing the right thing."
Earlier, South African Ambassador Ibrahim Rasool, D.C. Mayor Vincent C. Gray (D), TransAfrica Executive Director Nicole Lee and the Rev. Gina Campbell held a press conference in the embassy to announce a planned memorial service at the National Cathedral to honor Mandela. The Wednesday, Dec. 11 service was just one of many events in the Washington metropolitan area that were set to continue at least until Mandela's burial in his ancestral home on Sunday, Dec. 15.
"It has been a dramatic 24 hours for South Africa and people around the world. We're a bit overwhelmed by the type of coverage, the focus of the media and kindness people have shown," said Rasool. "Nelson Mandela has given the world the possibility to aspire. (We did not expect) Nelson Mandela (to be) with us forever but we're shocked by his passing."
"We are partners with the city of Washington, D.C. and they are assisting us to pay tribute to Mandela. It will happen in the most dignified way."
Rasool, 51, said individuals and organizations, representatives of civil society, trade unions, embassies and consulates will organize activities to honor Mandela's passing.
"We'll culminate our memorial of Nelson Mandela with an official national memorial service at the National Cathedral," he said.
Lee agreed.
"On behalf of thousands of civil, human rights, labor organizations and civil society, we offer our deepest condolences to the people of South Africa for Madiba," said Lee, 37. "As we did for his birthday celebration, we encourage people to (get involved). A thousand flowers will bloom and we will be in support of any activities that affirm our commitment to peace and justice. He represented the power of forgiveness. That is what the U.S. needs right now."