Mandela's Legacy Looms Large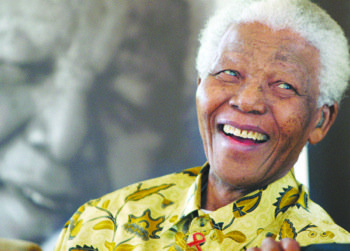 When he announced Mandela's death, South African President Jacob Zuma declared a period of national mourning until the Dec. 15 funeral and burial.
About 100 heads of government and state, global leaders, celebrities and about 95,000 South Africans were expected to attend the memorial service at the First National Bank Stadium in Soweto, the site of Mandela's last major public appearance during the 2010 World Cup. Observers have noted that the last time a funeral of this magnitude took place was Sir Winston Churchill's state funeral in 1965.
Among the expected attendees were President Barack Obama, first lady Michelle Obama; former U.S. Presidents Bill Clinton, George W. Bush and Jimmy Carter; U.N. Secretary General Ban Ki-Moon; Palestinian President Mahmoud Abbas; Britain's Prince William; Crown Prince Felipe of Spain; German President Joachim Gauck; Brazilian President Dilma Rousseff, and Indian President Pranab Mukherjee.
Celebrities Bono, Peter Gabriel and other luminaries were also expected to attend.
White House officials said Obama was to attend the national memorial service for Mandela and deliver remarks, while Mrs. Obama would be present at the service at First National Bank Stadium in Johannesburg, South Africa.
Mandela's body will lay in state in Pretoria prior to the funeral, and South African officials confirmed that his state funeral will take place on Sunday, Dec. 15 in his ancestral home of Qunu in the Eastern Cape.
In Washington, D.C., and far-flung corners of the world, those who loved and admired Mandela were remembering the icon whose arc of 95 years included becoming South Africa's first black president, a freedom fighter branded terrorist, prisoner of conscience, Nobel Laureate, a determined and stubborn foe of the hated apartheid system and a thorn in the side of the white minority government.
Mandela died at his home in Johannesburg, South Africa, on Thursday, Dec. 5. He was 95. He had been in poor health for some time, and earlier this year was hospitalized for three months in a Pretoria hospital with respiratory and other problems.
Since his death, South Africans have held vigils at Mandela's home in Houghton, a suburb of Johannesburg, as well as his old Soweto home. Well-wishers and mourners are laying wreaths, lighting candles and dancing in the streets to commemorate the celebrated life of Madiba, the father of their nation.
In countries from Canada to Chad and cities from Beijing to Bombay, flags are flying at half-mast, people are holding observances, vigils and remembrances and those whose lives Mandela touched have reacted with an outpouring of affection rarely seen for a politician.
Social media is abuzz with comments and commentary, and on Facebook, for example, untold numbers of users had pictures of Mandela on their profile and cover pages, while forums and other venues were hot with discussions and conversations.
Interestingly enough, even those who had no love for Mandela — particularly conservatives — are tripping over each other to pay tribute. Some have taken to television and the airwaves in an effort to whitewash history by trying to convince anyone who'll listen that President Ronald Reagan supported Mandela.