RECIPES: Winter Squash Risotto
12/11/2013, 2 p.m.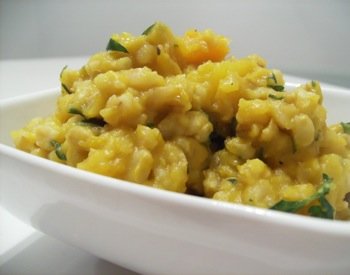 Sweet winter squash and earthy shiitake mushrooms are delicious in this creamy risotto. In keeping with the healthy adolescent theme, this risotto promises a healthy, quick and easy alternative for vegetarians and vegans (substitute the cheese for tofu) holiday meals.
Winter Squash Risotto Recipe
Makes: 4 servings, about 1½ cups each
Active Time: 1 hour
Total Time: 1 hour
Ingredients
5 cups reduced-sodium chicken broth, or vegetable broth
2 tablespoons extra-virgin olive oil
3 medium shallots, thinly sliced
3 cups chopped peeled butternut, hubbard, red kuri or kabocha squash (½-inch pieces)
2 cups shiitake mushroom caps, thinly sliced teaspoon dried thyme
½ teaspoon salt
¼ teaspoon freshly ground pepper
⅛ teaspoon crumbled saffron threads (optional)
1 cup arborio rice
½ cup dry white wine or dry vermouth
½ cup finely grated Parmigiano-Reggiano cheese
Preparation
Place broth in a medium saucepan; bring to a simmer over medium-high heat. Reduce the heat so the broth remains steaming, but is not simmering.
Meanwhile, heat oil in a large saucepan over medium heat. Add shallots; cook, stirring, until fragrant, about 1 minute. Stir in squash and mushrooms; cook, stirring often, until the mushrooms give off their liquid, about 5 minutes. Add thyme, salt, pepper and saffron (if using); cook for 30 seconds. Add rice; stir until translucent, about 1 minute. Add wine (or vermouth) and cook, stirring, until almost absorbed by the rice, about 1 minute.
Stir in 1/2 cup of the hot broth; reduce heat to a gentle simmer and cook, stirring constantly, until the liquid has been absorbed. Continue adding the broth a half-cup at a time, stirring after each addition until all the liquid has been absorbed, until the rice is tender and creamy, 30 to 40 minutes total. (You may have some broth left.) Remove from the heat and stir in cheese.
Nutrition
Per serving: 372 calories; 11 g fat (3 g sat , 6 g mono); 15 mg cholesterol; 54 g carbohydrates; 14 g protein; 6 g fiber; 632 mg sodium; 790 mg potassium.
Nutrition Bonus: Vitamin A (380 percent daily value), Vitamin C (65 percent dv), Potassium (21 percent dv), Calcium (20 percent dv).
Carbohydrate Servings: 3
Exchanges: 2½ starch, 1 vegetable, 2 fat