Recommended Books on Adolescent Health and Wellness
12/11/2013, 2 p.m.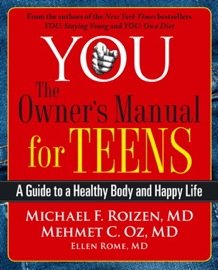 YOU: The Owner's Manual for Teens: A Guide to a Healthy Body and Happy Life
By Michael F. Roizen, Mehmet Oz
A few years ago, we wrote YOU: The Owner's Manual, which taught people about the inner workings of their bodies—and how to keep them running strong. But you know what? There's a big difference between an adult's body and your body, between adults' health mysteries and your health mysteries, between their questions and your questions. So, teens, this book is for YOU. We'll talk to you about the biological changes that are happening in your brain and your body. We'll show you how to get more energy, improve your grades, protect your skin, salvage more sleep, get fit, eat well, maximize your relationships, make decisions about sex, and so much more. In fact, in these pages, we answer hundreds of your most pressing health-related questions. And you know what else? We are going to treat you like adults in one very important way: We're not going to preach. We're going to give you straight-up information that you can use to make smart choices about how to live the good life—and enjoy every second of it. Starting right now.
The Teen Years Explained: A Guide to Healthy Adolescent Development
By Clea McNeely, Jayne Blanchard
We idealize childhood and demonize adolescence, often viewing the typical teenager as a bundle of problems. Yet according to a new book, The Teen Years Explained: A Guide to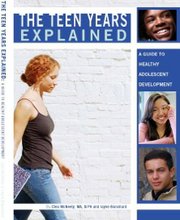 Healthy Adolescent Development, by Clea McNeely, MPH and Jayne Blanchard, adolescence can be a time of opportunity, not turmoil. By understanding the developmental stages and changes of adolescence, both teens and adults can get the most out of this second decade of life. In plain English, this guide incorporates the latest scientific findings about physical, emotional, cognitive, identity formation, sexual and spiritual development with tips and strategies on how to use this information in real-life situations involving teens. Whether you have five minutes or five hours, you will find something useful in this book. This practical and colorful guide to healthy adolescent development is an essential resource for parents, teens, and all people who work with young people.
Hot Stones & Funny Bones: Teens Helping Teens Cope with Stress & Anger
By Brian Luke Seaward
More than seventy-five teens from across the country were interviewed on a range of topics and issues: parents, friends, sports, clothes, school violence and peer pressure. With the passion and frustration expressed by teens in their narratives, as well as in their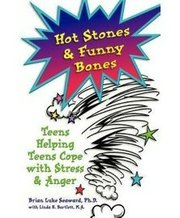 artwork and poetry, this book is a unique combination of original teen contributions and effective stress- and anger-management techniques from a mental-health professional. Most important, it was designed expressly for teens.
Hot Stones and Funny Bones is divided in three sections. "Telling It Like It Is" highlights problems and issues that nearly every teen faces in the middle- and high-school years, expressed in their own voices. The second section, "The Best Way to Cope with Stress", offers a host of coping skills and relaxation techniques for teens to utilize, ranging from ways to boost self-esteem and effective anger-management skills, to meditation and creative expression. The third section, "Final Comments From Teens", reveals opinions, lessons learned and advice to parents and teenagers about the struggles and triumphs of teen years. In addition, every chapter includes "Thoughts, Reflections and Action Plans", where teens can process what they've learned, using the information to make healthy behavioral changes.