Smithsonian Museum Features Work of South Africans
Women of Mandela's Tribe Create Intricate Bead Art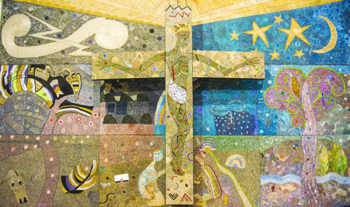 Each beader is paid for the items they produce, and a percentage of the profits are used for housing, education, micro-farming and a support program for those living with HIV/AIDS and other diseases, Gibson said.
It also provides African women a level of independence, financial security, and it helps with school fees for their children.
"Through this exhibition, the artists are being launched as individual international artists in their own right," Gibson said. "Their distinct styles elevate them from crafters to artists. These African womens' work can never be challenged as anything other than from their souls."
Portia James, the supervising curator at the museum, said she met Gibson while she made the rounds in America in an effort to bring attention to the artwork. James called the work, powerful.
"It blew us away. We knew that it was what we wanted here at our museum," she said.
Staff members and others also were impressed with how detailed the pieces are, James said. "The people who install artwork for us said it also blew them away. That tells us a whole lot."
A massive piece, titled "The African Crucifixion," counts as part of the exhibit, which features work that's significant to the artists' lives, and also includes the death of loved ones, gardens and the importance of livestock.
"The 'Crucifixion' stands from the floor to the ceiling," Gibson said.
Seven panels comprise the piece, which had been commissioned by the Cathedral of the Holy Nativity, an Anglican cathedral in Pietermaritzburg, the capital and second largest city in the province of KwaZulu-Natal, South Africa.
"Through the power of their work in the exhibition and the story of their lives, the Ubuhle women demonstrate how they rose above poverty, AIDS and abuse to create stunning works of art and to support themselves and their families," Gibson said. "It's inspiring, it's what Mandela was all about as well."