$1.7B Budget Proposed For Prince George's Co. Schools
New Chief Focuses on Arts, Language Programs
Joshua Garner | 12/13/2013, 2:21 p.m. | Updated on 12/18/2013, noon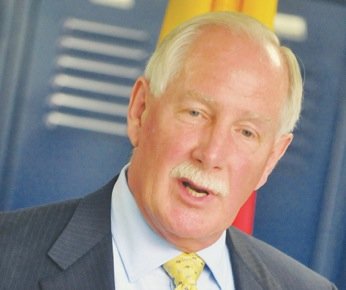 Expanding full-day pre-kindergarten, arts and language programs top the list of a proposed $1.7 billion budget for Prince George's County Public Schools.
Prince George's Schools CEO Kevin Maxwell presented the proposed fiscal 2015 budget to the Board of Education (BOE) on Dec. 12. The total represents a 3.89 percent increase from last year's $1.6 billion budget. Under the proposal, more funds will be allocated to arts programming and language immersion programs. Additionally, select schools would see the re-staffing of parent liaison positions and the expansion of full-day pre-kindergarten.
"I hope it's very clear … that we are listening [to parents]. That we are responding," he said
Maxwell said the budget shows his commitment to widening program offerings for county schools. The expanded programs are an effort to show Prince George's County schools can be a destination point for middle-income households as well as highly-qualified teachers.
The budget includes funds to bring in an additional 31 parent liaisons in schools with high Latino populations to act as translators and provide other services for Spanish-speaking parents. The positions were all but eliminated in past budgets due to declining revenues. Maxwell stressed the need to be inclusive of non-English speaking parents. Latinos make up about 24 percent of the Prince George's County student population, according to the Maryland State Department of Education.
"To move our district forward, we need to really know our community," Maxwell said. "Not only how our community is growing and changing … but also who lives here and where they're coming from and what their needs are."
Expectations are high for Maxwell to deliver strong leadership and improved standards to county schools. Maxwell was selected earlier this year to head the county school system by County Executive Rushern L. Baker III (D) after he was granted the authority to select a school system leader by state legislators. Maxwell had previously served as superintended of Anne Arundel County Public Schools and as a teacher and principal in Prince George's County for 20 years.
Prince George's County has the second largest school district in the state. Baker made improving county schools a campaign promise, and part of his initiative to revamp the county's image.
Still, Maxwell conceded that the school district continues to deal with the impact of a wobbly economy and the uncertainty of federal funds due to sequestration. Administrators borrowed $46 million from the school system's surplus to help pad the budget. The proposal allots for a 2 percent increase in teacher salaries, and a more structured workforce development program that includes peer assistance reviews.
"This is about the best I can do financially this year," Maxwell said.
The budget will also make investments in easing teacher workloads as well as adding additional staff for arts programming. In total, 150 special education assistant personnel will be added to county schools, seven school counselors, 20 reading specialist instructors, and 10 art teachers.
Maxwell's budget faces a lengthy approval process that includes public hearings along with input from school board members and county officials. Both the school board and the county council must approve the budget by next summer.
But initial remarks given by school board members favor the proposal. Board members praised Maxwell for incorporating their suggestions of school equity, expanded programs, and community outreach. The board will continue to review the budget through March.
"Our job now is to ask the tough questions," said BOE Chair Segun C. Eubanks.
For more Prince George's County/Maryland news, follow @JoshuaGarnerDC on Twitter.