Newtown Victims Remembered
Dorothy Rowley | 12/13/2013, 2:39 p.m. | Updated on 12/18/2013, noon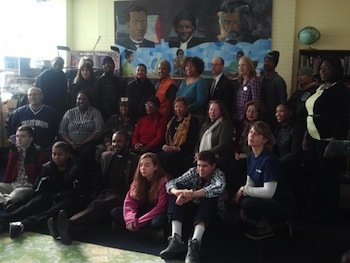 It's been a year since the shootings at Sandy Hook Elementary School in Newtown, Conn., that left the close-knit town numb with grief and many of the victims' families continuing to ask "why?"
In remembering the 26 educators and students who lost their lives on Dec. 14, 2012 in the country's most deadly school shooting ever, two busloads of their loved ones and friends from Newtown recently joined hundreds of supporters from across the country for a trip to the District for a vigil at the National Cathedral in Northwest. The trip which included visits to several schools, churches and community centers, was a part of the Newtown Foundation's nationwide "An Act of Kindness: Day of Community Service."
"This is a nationwide community service commemoration that acknowledges the first anniversary of the Newtown shootings," said District community activist, the Rev. Anthony Motley, 64. Motley, pastor of Cathedral of Christ Baptist Church in Capitol Heights, Md., added that the array of events which took place this past weekend, brought people together to make the world a better place through acts of kindness.
Nardyne Jeffries who organized the Dec. 12 visit to the Children of Mine Community Youth Center on Maple View Place in Southeast, said she's trying to live the way she was brought up.
"This is important to me, because we have supporters from other cities like Chicago and Oakland, Calif., who are showing people all over the country that gun violence is not just an inner city or black issue," Jeffries said.
Jeffries, 43, coordinates volunteers for the nonprofit center that was founded 33 years ago by director, Hannah Hawkins. She said she feels the pain of those who lost children in the Newtown shootings, having had her child, 16-year-old Brishell Jones, murdered nearly four years ago in a drive-by spree on South Capitol Street in Southeast.
September Chatfield also knows the pain of gun violence, saying however, that she counts her blessings.
Chatfield said she and her son, who at age 12 is a gunshot survivor, made the trip from Hartford, Conn., to let the Newtown families know people still care.
"The shoe could have been on the other foot for me," said Chatfield, 35. "But we have a big heart that's full of love, and want the world to know that we're willing to share that with the people of Newtown."
Chatfield added that she and her son came to Hawkins' center to "lend a hand," after realizing its shortage of volunteers.
The center, located in an historic house that Hawkins owns, serves about 75 youth each week. Hawkins, who also uses the second floor on weekends to house homeless males, said that because her organization receives no public funding, it has to rely on volunteer efforts and donations.
Yet Hawkins said the facility endeavors to be a safe haven for youth – many of whom visit after school for help with family issues, homework, free meals or to hone their artistic abilities.
"We welcome the people from Newtown because we've been counseling and consoling families who have lost children to gun violence for years," Hawkins said. "We've even had families who have lost all of their children."

Meanwhile, President Barack Obama, who offered condolences to Newtown during his weekly address to the nation, continues the call for stricter gun control and more support for mental health.
"We haven't yet done enough to make our communities and our country safer," said Obama. "We have to do more to keep dangerous people from getting their hands on a gun so easily. We have to do more to heal troubled minds."