COMMENTARY: Winston Win Doesn't End Heisman Character Debate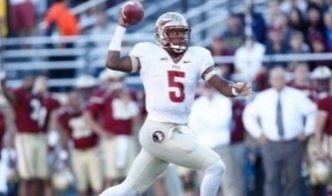 The story is all too familiar. A star college athlete is accused of an indiscretion, one that could potentially derail his athletic career and jeopardize his personal life. Yet another story cut from that same fabric surfaced in Tallahassee, Fla.

It all seemed to be going Jameis Winston's way. As the star quarterback for an unbeaten Florida State team with legitimate national title hopes, as well as leading candidate for the Heisman trophy, the redshirt freshman couldn't have asked for a better season. Until last month.
News surfaced of an investigation into a sexual assault allegation against Winston from a year ago, putting his personal freedom and football dreams at risk, starting with his pursuit of the Heisman trophy.
Though he ultimately won the award Saturday night, it certainly put the Heisman voters in a tough spot.
And despite his win, the question remains: should the Heisman be awarded based solely on performance or should off-field issues be included in the evaluation formula?
At a Dec. 5 press conference, William Meggs, Florida's Second Judicial Circuit's State Attorney, announced that there was insufficient evidence to secure a conviction and that charges would not be brought against Winston.
However, some feel that personal character does matter and the mere fact that there was an investigation of Winston should've cost him votes.
I firmly believe if the probe had lasted beyond Monday, when the final ballots were cast, many Heisman voters would have found themselves in a real quandary. They would have been conflicted over whether they would be comfortable voting for someone who could ultimately be convicted of sexual assault. But that's moot now.
Those who vote are accountable to the Heisman trust, which asks that individual voters not disclose their choices. This level of anonymity protects from personal criticism and scrutiny, which empowers voters to freely cast their ballot for the player they believe is most deserving, so Winston had that working in his favor.
(Of course, such anonymity for voters could also empower them to punish candidates for perceived transgressions, but again, moot point.)
Not to mention, this isn't the first time a Heisman candidate has been mired in controversy. Nebraska tailback Johnny Rodgers captured the trophy in 1972 despite being convicted for robbing a gas station, a crime for which he was eventually pardoned.
In 2010, USC running back Reggie Bush returned the Heisman he won five years earlier after an NCAA probe found that he had received in excess of $300,000 in cash and benefits from an agent. In that same season, Auburn quarterback Cam Newton won the trophy despite allegations that his father offered Mississippi State his son's services in exchange for $180,000.
And a couple of Heisman winners also went on to face felony charges. O.J. Simpson, who infamously beat a double murder rap, currently sits in a Las Vegas prison for kidnapping and robbery, while 1959 recipient Billy Cannon did time on a counterfeiting conviction.
One thing's for certain, though: Winston's play wasn't going be the reason he didn't get the award. He has passed for 3,820 yards and 38 touchdowns, with only eight interceptions and a passer rating of 193. If he continues to play at such a high level, he could set the NCAA record for passing efficiency.
But the Heisman was intended for athletes who not only perform at a high level but also display high character off the field. Many of today's top-tier college football players have displayed significant character flaws, and if such types continue to win the award, there could come a time when the prestige of winning the trophy will be diminished.
Still, if I had a vote, it would've gone to Winston. After all, no charges were filed. But whether he won or not, there's still some good that can come from his saga. Hopefully it'll serve as a cautionary tale for other college athletes and, as a result, they'll be mindful of the potentially costly impact of their off-field behavior.