Falcons Force 7 TO, Nip Redskins, 27-26
WI Web Staff | 12/15/2013, 5:10 p.m.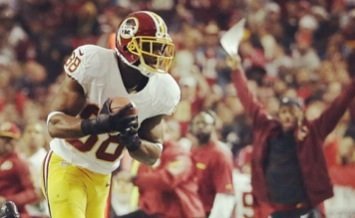 New quarterback, same result.
The Washington Redskins' nightmare season continued Sunday with a 27-26 loss on the road to the Atlanta Falcons, a bizarre contest marked by a startling seven turnovers by Washington and a controversial last-minute gamble by head coach Mike Shanahan that cost the team a shot at overtime.
Kirk Cousins, the second-year quarterback who took the reins for starter Robert Griffin III after he was shut down for the rest of the season, was both impressive and shaky in his second career start. His numbers (29-45, 381 yards, 3 TD) were solid, but he turned the ball over three times, including two interceptions on bad decisions.
The Redskins (3-11) couldn't hang on to the football for much of the game, fumbling a team-record five times. At one stretch in the second quarter, they turned the ball over three times in less than three minutes, including two fumbles inside the Falcons' 30-yard line.
Atlanta (4-10) capitalized throughout, scoring 20 points off turnovers.
The Falcons' offense was largely kept in check otherwise, as the Redskins nearly doubled their counterparts in yards gained despite constantly coughing up the ball.
But with 18 seconds remaining, Washington elected to attempt a two-point conversion after a Cousins touchdown pass to Santana Moss closed the deficit to one. Atlanta deflected Cousins' pass to Pierre Garçon, then recovered the subsequent onside kick to end the game.