Concerned Residents Decry Gentrification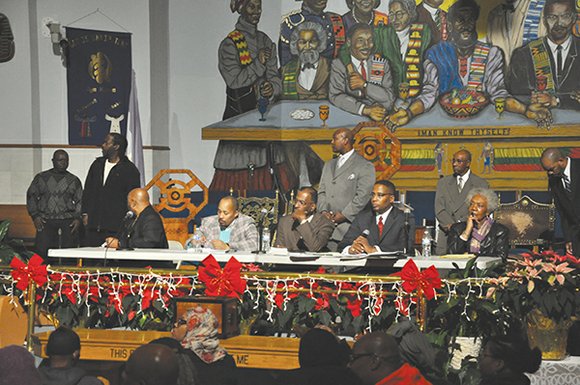 Until a few years ago, black District residents proudly called their city "Chocolate City," at a time when more than 70 percent of the 528,000 residents were African American.
In the last few years, however, gentrification has spread across Washington, D.C. with a vengeance, transforming the city with a steady influx of 1,100 new residents a month. The complexion of neighborhoods have or are in the process of shifting from black to white and multi-ethnic; meanwhile, long-time and middle-class residents, and others with more modest means, struggle to pay soaring rents, the cost of living continues to spiral upward and affordable housing for the most part is a pipe dream.
While Mayor Vincent C. Gray, Deputy Mayor Victor Hoskins and city leaders crow about the city's growth, the booming economy and the upward movement, beneath the surface, tensions between old and new residents, blacks and whites, elites and the working class, simmer.
On Saturday evening, a number of these and other issues manifested themselves at Union Temple Baptist Church during an emergency meeting convened by the church's pastor the Rev. Willie Wilson, Malik Zulu Shabbazz of Black Lawyers for Justice, and Al-Malik Farrakhan, founder of Cease Fire, Don't Smoke the Brothers and Sisters, Inc.
The town hall and public hearing's title, "The Adverse Effects of Gentrification – Confronting the Crisis Facing Black Washington, DC" – illustrates just how dire the situation is, the conveners said.
"I'm delighted to be a part of this conversation today," said Wilson during opening remarks at the Southeast church. "We will talk about classism and racism, two subjects we refuse to talk about in this country. People shun discussing race when it's tied to a certain race, then it becomes classism."
"We'll be handling this in a very intelligent and informed manner and there are resource people here to help."
Wilson used the analogy of grapes and gripes to say that while listeners would have a forum to aim their gripes, the focus would be on using the information aired at the meeting to devise workable solutions to stem the current of change that deeply affects and continues to marginalize people of color in the District.
Several hundred residents – most living east of the Anacostia River – participated in the forum, filling the church to capacity.
"It's that time. Either we stand up or we'll be washed out of the city," said Shabazz, 47. "We had to convene this panel because the elected officials haven't represented us. We're looking at gentrification and black population removal. Seventy-five percent of D.C. in 1990 was black. In 2013, it's 48 percent and declining. That's a crisis."
"Every month, 4,000 residents move in and 1,000 move out. The repercussion of black population reduction is having a devastating effect on the city, the people, our lives."
Shabazz pointed to a conspiracy between city leaders, billionaire developers downtown, the National Capital Planning Commission, [the Federal City Council] and others which have brought the city's black residents to this point. Many of the speakers said that it's not that they don't want to see their city improve and grow, but they said they have been priced out of the city and the amenities other D.C. residents take for granted aren't available for them. But Wilson and others said that blacks have been complicit in their own demise.