Concerned Residents Decry Gentrification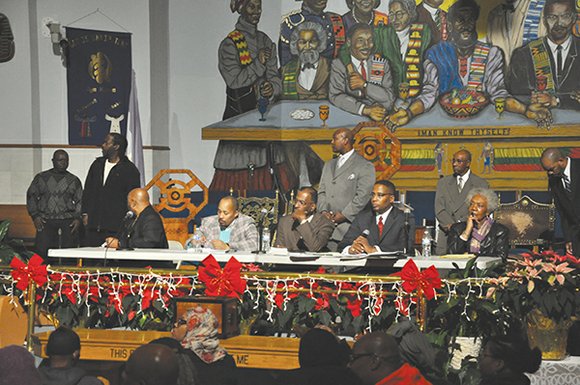 "John Henrik Clarke said that European conquests of the mind of Africans and people of African descent is the greatest conquest that [Europeans] have made. In Ward 8, police sit in certain areas 24-7. We've been here all these years and never seen that. We didn't see street sweepers and all of a sudden, we see them everyday. This was planned and calculated 30 years ago," Wilson said.

Activists and residents talked about the effects of the lingering recession with its resultant job losses, foreclosures and increased property taxes which have seen significant numbers of blacks and Latinos lose their homes and other vagaries of gentrification. In addition, there is an affordable housing crisis that's overwhelming low- and middle-class residents.
Affordable housing advocate David C. Bowers said the H Street and U Street corridors, which have been transformed by gentrification, has produced a phenomenon that's pricing out long-term residents and those with modest incomes, even as about 20 percent of District residents already spend half of every dollar they bring home on housing.

Gentrification and the massive boon to accommodate the influx of tens of thousands of new residents to the District have fueled a housing shortage for middle and lower-income residents. Those with higher incomes have snapped up houses at such a rate that it has exacerbated the shortage which regional officials and public and private partners are struggling to correct.
"Twenty percent of the population in the city and the region are paying 50 percent of their incomes on rent; and the fair-market price for rent in this region has increased by 70 percent over the past 10 years," said Bowers, vice president and Washington Impact Market Leader for Enterprise Community Partners, Inc., in Northwest. "It's a severe problem. We've lost affordable housing units in D.C. and Northern Virginia and as we've lost units, rents have increased and incomes have not kept pace."
The situation is further aggravated by the fact that the District of Columbia boasts the highest rents in the country. The District and the rest of the Washington metropolitan region, is emblematic of the difficulties moderate and low-income residents face as they try to find affordable housing, Bowers said.
Residents also spoke bitterly about what is often now called "racial micro-aggressions" – defined as "the everyday insults, indignities and demeaning messages sent to people of color by well-intentioned white people who are unaware of the hidden messages being sent to them." That could be something like calling the police because some people are sitting on their stoop, or because black churchgoers double-park on Sunday mornings or black residents being made to feel that they don't belong in their neighborhood by newcomers.
Renowned scholar and psychologist Dr. Frances Cress Welsing said she finds herself in that position at her home in Northwest.
"Black people are complaining about the pain of being pushed out," she said. "This is happening in Philadelphia, Detroit and New York. They are experiencing the pain of removal while whites are moving into the city. Gentrification equals accommodating white people's desire for dog parks and bicycles. (No one) is responsive to black people's interests and needs or resolving black people's concerns."