Hyundai's Big Front-Driver Packs Plenty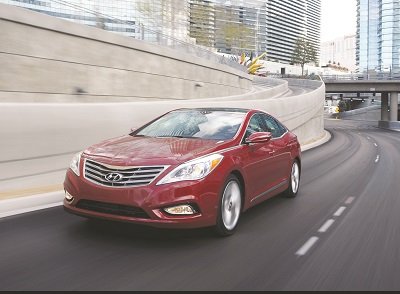 Hyundai is in a hurry to conquer the world. In two decades, the brand's frenzied growth has brought consumers a wide variety of vehicles, from subcompacts all the way to Luxury. While hatchbacks, coupes and SUVs extend the range of available vehicles, sedans are the brand's core. Best sellers such as the Elantra and Sonata models have carved comfortable niches in the lower strata, while recent additions such as the $40,000 Genesis and $60,000 Equus have brought the luxury to the mix.
Today's review vehicle, the Hyundai Azera, occupies the gap between the midsize Sonata and the Genesis sedan. This is the roughly $15,000 gap ruled by big sedans such as the Ford Taurus and Toyota Avalon that cannot quite be described as luxury cruisers, but are roomier and more lavish than midsize sedans such as the Sonata. Since the launch of an all-new model last year, Azera has sold well, though it lags in overall volume behind Toyota, Ford, GM and Chrysler competitors.
Compared with the Sonata, I prefer Azera's more handsome body which comes with fewer swoops. The Azera scores well by having more length to draw out and finesse the balance of forms. From the chrome grille that initiates the winged "in flight" theme in the front, to the wraparound LED taillight treatment is in the rear – Azera expands on Hyundai's "Fluidic Sculpture" ethos with a grown-up stateliness that will likely survive many years.
The Azera offers a roomy cabin with more than 45 inches of legroom and 40 inches of headroom for front-seat passengers. Our test car came with a panoramic sunroof, which allows more natural light into the cabin and 3D Carbon interior accents. Other standard luxury equipment include power front seats, power rear sunshade and manual rear side window shades.
I found the test vehicle's touch-screen navigation system easy to use, with quick destination programming, solid graphics and easy-to-follow maps. An optional 550-watt, 12-speaker Infinity audio system was a nice addition to the many amenities in this car that include a bevy of safety equipment.
The ride is cushiony and on the open highway, Azera offers a driving experience just as composed as that of any current competing sedan we've sampled recently. On a trip through Maryland's Eastern Shore and Virginia's Tidewater, the Azera gave my growing family adequate seating space, a smooth ride, and luxury-car feel to keep everyone comfortable.
On my mixed city-suburban commute, the suspension tamed wrinkled District of Columbia asphalt pretty well, though I preferred the Toyota Avalon that I drove a few weeks earlier – it was both sportier and comfortable.
Azera features nine airbags including dual front, front and rear seat-mounted side-impact, front and rear side curtain airbags and a driver's knee airbag. The test vehicle was equipped with Hyundai's new generation 293-horsepower V-6, which outputs nearly 50 percent more power than the Sonata's 198-horse 4-cylinder, and is mated with a six-speed transmission.
For the 2013 model year, Hyundai engineers have improved highway and combined fuel economy by one MPG to 30 and 24 respectively, making Azera the first V6 powered Hyundai to achieve 30 MPG highway.
Our tester had a sticker price of $36,875, which is not unusual for vehicles in this group. However, before you write the check for the Azera, you need to walk across the lot and look at the sportier rear-drive Genesis 3.8 sedan, with a 333-horsepower V-6, which retails for just over $3,000 more. I'm not one to take bets, but I suspect you will be impressed with what you can get for just a few extra grand.