National Theatre Continues its Revival
Famed Opera 'Porgy and Bess' Returns for Five-Day Run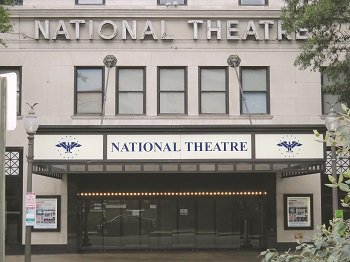 For nearly 200 years, the National Theatre has been the site of some of Broadway's most acclaimed stage plays and musicals.
With a history that's included appearances by such classic stars as Josephine Baker, Katharine Hepburn, Spencer Tracy, Cab Calloway, Lauren Bacall and so many others, the theater recently has enjoyed a rebirth.
And, for the nostalgic at heart, there aren't too many ways in which theater officials could better underscore that renaissance than with an eight-show and five-day run of George and Ira Gershwin's "Porgy and Bess," which opens on Christmas Day.
"As you may imagine, we're really excited about it because it was here in 1936 and then came back in 1952, so it was sort of a beginning of a new era for the theater," said Tom Lee, the executive director of the National Theatre Corporation, which operates the historic playhouse in Northwest, a mere stone's throw away from the White House.

The original production of "Porgy and Bess," considered by many in the theater industry to be among America's greatest operas, introduced one of the first major companies of black actors to Broadway and to stages across the country.
When it arrived at the National Theatre in 1936, however, cast members refused to perform unless management allowed blacks to attend.
"That was powerful, especially for that time," said Sumayya Ali, who portrays Clara, the wife of the doomed fisherman in the two and a half hour musical.
A graduate of the Duke Ellington School of the Arts in Northwest, Ali said she's looking forward to her homecoming performance.
"It's exciting and I'm really looking forward to getting back and going to Ben's Chili Bowl and seeing my family and friends and bringing honor to the Duke Ellington School," Ali said.
Among those whom Ali said she's anxious to see are Ellington officials, such as her retired voice coach, Samuel L.E. Bonds.
Bonds served as director of the Ellington Concert and Show Choirs and also worked with the D.C. Boys Choir, the Washington Male Chorale, the Prince George's County High School Honors Chorus, the Charles County High School Honors Chorus and the Washington Performing Arts Society's Children of the Gospel Choir.
"Mr. Bonds is like my second father," Ali said. "Ellington is loaded with talent and I never thought I was anything special. He heard me singing and wanted to teach me. He exposed me to opera and when we were in class, Mr. Bonds said that there are people here who have the potential to be world-class [performers] and he mentioned me. Wow!"
Ali said she received a call earlier this year to audition for "Porgy and Bess," and it didn't take long before her agent contacted her with the news that she had earned a part in the touring show.
"I was minding my own business and my agent called and said I have an appointment for you to audition to cover the parts of Clara, Bess, and Serena," Ali said. "Three hours later, I'm at the opening party. You just have to have faith and determination and things work out."