National Theatre Continues its Revival
Famed Opera 'Porgy and Bess' Returns for Five-Day Run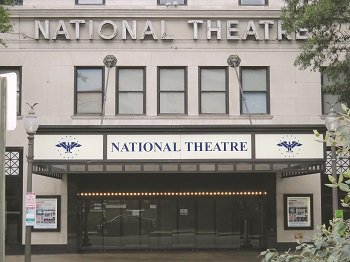 First performed in 1935 with music by George Gershwin, "Porgy and Bess," depicts African-American life in the fictitious Catfish Row in Charleston, S.C., in the early 1920s.
Based on the book, "Porgy," by DuBose and Dorothy Heyward, "Porgy and Bess" tells the story of a disabled black beggar who lives in the slums. It chronicles Porgy the beggar's attempts to rescue Bess from her possessive and violent lover, Crown, and drug dealer, "Sportin' Life."
"We wanted to not only do these kinds of things again – first-class and first-run Broadway tours – but we also want to expand what we're doing," said Lee, a Woodbridge, Va., resident.
Lee also said he foresees the National Theatre as more than just a venue for stage shows. "Theaters today do more than just one thing. We could have ballet companies, dance companies," he said. "The Dance Theatre of Harlem is one group that I'd like to see come in here and we can also host lectures, we can rent the building out for seminars or weddings. This will become what other performing arts centers are; a building that will be able to serve the people of the District."
The theater remains in need of a new sound and lighting system, elevators, an air conditioning system, new curtains and drapes, and an upgrade in technology, he said.
For now, however, it's just good to welcome back, "Porgy and Bess," Lee said.
"But, after a few years of activity that wasn't nearly as much here as we'd have wanted, we are here with 'Porgy and Bess' again and that's wonderful," he said.
Show times for "Porgy and Bess," are 7:30 p.m., on Wednesday, Dec. 25; 2 p.m. and 7:30 p.m., on Thursday, Dec. 26; 8 p.m., on Friday, Dec. 27; 2 p.m. and 8 p.m., on Saturday, Dec. 28; and 2 p.m. and 7:30 p.m. on Sunday, Dec. 29. To purchase tickets, visit, www.thenationaldc.org, or call 202-628-6161.