'Porgy and Bess' Soundtrack Earns Rave Reviews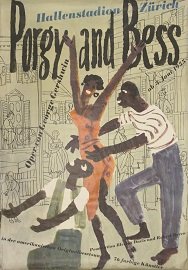 The boldly reinterpreted music in the latest incarnation of George and Ira Gershwin's "Porgy and Bess" has helped to bring an American masterpiece back to life, said critics who've not only lauded the play but the songs performed in the classic.
"While it was hatched in controversy over radical changes proposed by director Diane Paulus and libretto adapter Suzan-Lori Parks, 'Porgy and Bess,' evinces a profound love for the original material," said David Rooney, one of the Hollywood Reporter's premiere theater critics.
"But, more than that, it straddles with confidence the inherent divide of this ravishing work between opera and musical theater, making the production accessible, theatrical and emotionally full-bodied," said Rooney, who also writes about the arts for the New York Times.
Paulus and composer Diedre Murray reduced Gershwin's score to music with an 18-piece pit orchestra while adding spoken dialogue in place of many of Gershwin's recitatives, said James Manheim, a reviewer for Allmusic.com.
"The music is less substantially changed, but 'Summertime,' is transformed into a duet and given a whole new function," Manheim said.
Of the many well-known tunes included in the 32-song soundtrack, "Summertime," "Roll Them Bones," "I Got Plenty of Nothing," and, "It Ain't Necessarily So," each count among audience favorites.
The musical tells the story of "Porgy," a disabled black beggar who lived in the slums of Charleston, S.C., and it chronicles his attempts to rescue, "Bess," from her violent lover, "Crown," and an unsavory drug dealer, "Sportin' Life."
Originally conceived by George Gershwin as a folk opera, "Porgy and Bess," premiered on Broadway in 1935 and featured a cast comprised of classically trained African-American singers.
While the director and collaborators have shuffled a few things around and polished a few edges, they've made sure that the Gershwin score sounds profoundly correct and that the show and its soundtrack are worth its theatrical weight in gold, said David Finkle, who writes for the Broadway-themed website, TheaterMania in New York.
Finkle said the music score's emotional highpoint comes during the song, "Bess, You is My Woman Now," where two actors profess their love for Bess.
"The grinning actor who sings, 'I Got Plenty of Nothing,' is helium-buoyant," Finkle said. "The same care has been given to all the beloved songs, like 'It Ain't Necessarily So,' which is totally vital, while they also loft 'Summertime' to the sky."