Student Group Tackles ACA Problems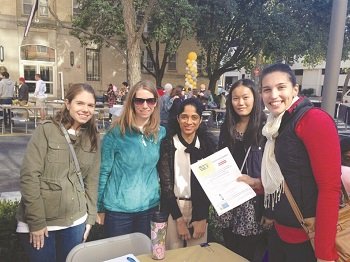 In the months since the Oct. 1 rollout of the Affordable Care Act (ACA), millennial enrollment has waned in state insurance exchange programs. In addition, a relatively unknown preventative health fund that subsidizes neighborhood clinics across the country, combats tobacco use, and tackles obesity could face possible extinction.
GW Colonials for Health, a group of public health graduate students from The George Washington University (GW) in Northwest, outlined a series of recommendations to tackle these issues during a presentation before more than 50 public health professionals at the Washington Metropolitan Public Health Association headquarters in Northwest on the evening of Dec. 4.
"My concern is that we know how to document problems but not how to solve them," said Caroline Sparks, Ph.D., associate professor of prevention and community health at GW's School of Public Health & Health Services. "Students practiced skills they learned over the course of the semester and [used] them in changing policy [as well as] social norms among the population," said Sparks, who has [taught] the community organizing, development and advocacy course every fall since 2005.
The ACA represents the largest overhaul of the U.S. health care system since the introduction of Medicare and Medicaid in 1965. The law aims to reduce health care costs and requires health providers to improve quality through a combination of mandates, subsidies, and state-based insurance exchanges. It also requires insurance companies to cover individuals, regardless of pre-existing conditions or gender.
Although a 2011 Congressional Budget Office report estimated a long-term $210 billion net reduction in the U.S. deficit, the law has faced opposition from GOP lawmakers, many of whom have rejected the Medicaid expansion in their states. In addition, more than 50 percent of millennials nationwide have no intention of buying insurance in health exchanges, according to a poll recently conducted by Harvard University.
"I organized students into different teams to learn about the issues that would arise in implementing the Affordable Care Act," said Sparks. "Each team was required to do a needs assessment and it showed the biggest problems. In D.C., they tried to focus on the activities of the agencies. At the federal level, the group focused on [what has become] the not so well known part of the Affordable Care Act."
The D.C. coalition of GW Colonials for Health launched a campaign to raise awareness about DC Health Link, the District's health exchange program, among millennials and address common misconceptions. In talking to millennials, public health graduate student Maritza Pedlar found that many didn't think about enrolling in the program either because they were on their parents' insurance plan or didn't have any close friends without coverage. She said the efforts of her group bridged an information gap that has often kept young residents unaware of the benefits that are available to them.
"What young people may not know about DC Health Link is that if you're single and make less than $24,000, you're eligible for Medicaid and if you make less than $45,000, you'll qualify for subsidies," said Pedlar, 23. "Through my advocacy efforts, I [was able to] help people [denied Medicaid the first time] enroll for health insurance," said Pedlar who lives in Northeast.