Student Group Tackles ACA Problems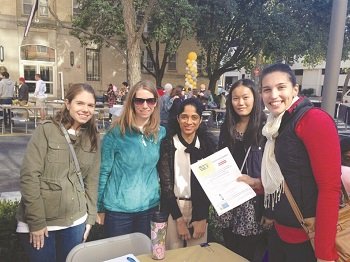 Another issue of concern for Pedlar and her team members involved DC Health Link's use of funds and its effectiveness in targeting D.C.'s millennial population. She recounted the difficulty her group had in collecting information that would help it to better understand the magnitude of the situation.

"We wanted to ensure that funds have been used appropriately and there's transparency between the organization and District residents," said Pedlar. "We wanted to increase accountability for the DC Health Link to properly evaluate [its ability] to disseminate funds. We tried to find out how the funds were being distributed and the different activities and tracking methods [utilized]. We really want the college students, universities, and young professionals to find [our project] important."
Mindy Gruba, who worked with the federal subgroup of the GW Colonials for Health, circulated an online petition in November to rally support for the Prevention and Public Health Fund, a $14.5 billion treasure chest that funds public health research, surveillance and tracking, immunization, and workforce training over a 10 year period. In April, the Obama administration announced it would shift nearly half of the funds allocated for this year toward state health exchanges and House Republicans proposed the use of $4 billion from the fund for the high-risk enrollees. Gruba said cuts to the fund undermine efforts to proactively [tackle] preventable illnesses in a manner that would incur cost savings of more than $16.5 billion annually.

"Financially it makes a lot of sense said Gruba, 28. "What it came down to for our group was presenting the information in a way that resonated with people. There is a cultural shift that needs to take place. We need to view prevention in a different way [but] it's not going to happen in a year," said Gruba who lives in Northwest. GW Colonials for Health, formed as a part of Sparks' community organizing and advocacy course, has addressed community-based public health issues by building coalitions, using social media, radio, and television, and meeting with lawmakers and health organizations. Each initiative students have undertaken has spanned more than four years with different cohorts of graduate students taking on projects at various stages. The group's previous grassroots campaigns resulted in CVS pharmacies located in low-income neighborhoods openly displaying its array of contraceptives and the implementation of a ban on smoking throughout GW's Foggy Bottom and Mount Vernon campuses in Northwest as well as its science and technology campus in Ashburn, Va.

The graduate student group's other projects this semester included drumming up support for Medicaid expansion in Fairfax County, Va., and persuading primary care physicians to accept Medicaid-eligible patients in Prince George's County, Md. Sparks said that in carrying out these initiatives, students have fine-tuned skills needed to pursue a successful career in the public health field.
"I think all the teams made progress on their issues," said Sparks. "They went out into the field, met the public as well as key decision makers. The goal in the advocacy class is not change. Instead, it is to create enough support for causes so you have a chance to win. If you don't have money, you [at least] have people," said Sparks.