Push For P.G. County Casino Nears End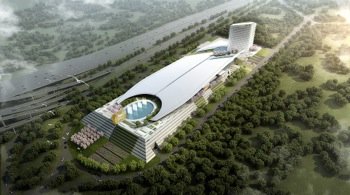 The day before a Maryland commission will announce the winning bidder of a casino to be built in Prince George's County, the three developers vying for the contract have made a final push to sway favor.
The seven-member Maryland Video Lottery Facility Location Commission will award a gaming license to developers hoping to build the casino in Oxon Hill or Fort Washington on Friday in Baltimore.
MGM Resorts International is proposing an $800 million resort and casino at National Harbor. Penn National Gaming, owner of Rosecroft Raceway, is proposing the $700 million Hollywood Casino Resort. Bensalem, Pa.-based Greenwood Racing Inc., has proposed the $800 million Parx Casino Hotel & Spa in Fort Washington at the intersection of Route 210 and Old Fort Road.
Stakes are high for the bidders to capture the coveted license. After consultants told the commission earlier this month that the National Harbor location would be the most profitable due to access, Greenwood officials announced it would fund $200 million in improvements to Route 210. Subsequently, Mark Stewart, a lawyer for Greenwood Racing, told the commission in a letter that the process for projecting revenues for the three proposals was "flat out wrong" and asked the commission to delay its decision.
"The commissioners, thoughtful and dedicated as they are, do not have experience in developing and operating gaming businesses and have been presented with voluminous, esoteric, number-filled (and at times internally inconsistent) consultant reports," Stewart wrote, according to reports.
MGM's proposal would generate as much as $719 million in gambling revenue, according to the consultants. By comparison, the Greenwood Racing location would generate $682 million and the Penn National Gaming project would bring in $560 million, based on the consultants' projections.
Still, it could be as late as summer 2016 before a casino opens in the county.
The commission will announce its decision 11 a.m. Friday at the Montgomery Park Business Center in Baltimore.
For more Prince George's County/Maryland news, follow @JoshuaGarnerDC on Twitter.