MGM Hits the Jackpot: National Harbor Chosen as Location for P.G. County Casino
Joshua Garner | 12/20/2013, 12:17 p.m. | Updated on 12/23/2013, 3 p.m.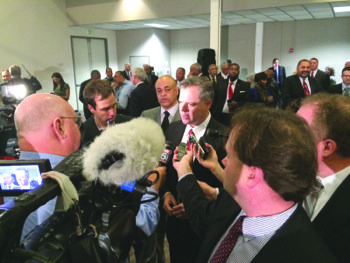 "I still think traffic is going to be a challenge for us," said Prince George's Councilman Obie Patterson (D-Dist. 8) of Fort Washington, whose district includes National Harbor. "I'm complaining about traffic too. I think some of those things are already being discussed."
County officials said they are reviewing options to improve roadways along Route 210 and Oxon Hill Road. Funding has already been allocated for an interchange near the intersection of Kerby Hill Road and Route 210.
Brad Frome, deputy chief of staff for County Executive Rushern L. Baker III (D), said that revenues from slot machines at the casino would contribute as much as $9 million annually toward roadway improvements. The county could use those funds to help leverage additional funding to build more interchanges along Route 210, which cost about $100 million per section, he said.
And figuring out how to improve roadways is a good thing, Baker, 55, said – more development in certain areas gives county and state officials more reason to allocate funding for transportation improvements.
"What we have now is the ability to capture revenue in Prince George's County and Maryland," he said. "[MGM] knows how to build quality gaming facilities and quality hotels. They have a site that's unlike anything on the East Coast."
For more Prince George's County/Maryland news, follow @JoshuaGarnerDC on Twitter.