Bombay Sapphire Series Celebrates Four Years in Exhibit of Winners Past and Present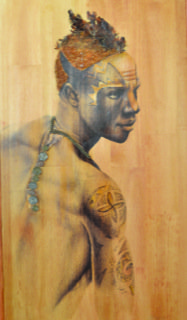 The brilliant abstract-shaped canvases, classically crafted portraits and masterfully manipulated digital photographs lining the walls of International Visions Gallery on Connecticut Avenue represent winners – all of the artists who created them are winners of one of the most popular art competitions in the country.
"Explorations," currently on view through January, showcases the talents of five artists who have won the regional competition of the Bombay Sapphire Artisan Series, held exclusively at International Visions Gallery since it began four years ago.
Local artists Michael Platt and Stan Squirewell tied to take the first Artisan Series awards for the Washington, D.C., Maryland and Virginia regional competition in 2010, followed the next year by S. Ross Browne in 2011. The 2012 winner Al Burts, whose sophisticated realistic ballpoint pen drawings have steadily gained in recognition, contrast sharply with 2013 winner J. Jordan Bruns' colorful abstract works. Yet all display the high caliber of execution that put them ahead of the scores of artists from the area that vied for the honor.
"About four years ago, I was approached to be a host gallery," said Tim Davis, founder and owner of International Visions Gallery, which recently celebrated its 25th year representing artists from the area and around the world. "This was the beginning [of the] Rush Philanthropic and Bombay Sapphire partnership. We have been the gallery since the beginning."
"Out of 250 entrants this year, only 19 were selected," said Davis, who is also an accomplished artist. A panel of judges view the artwork, and ultimately select the winner, who then goes on to represent the region at the renowned Art Basel, held in December in Miami. In addition to the DMV, artists from New Orleans, Detroit, Atlanta and other select cities around the country, compete in individually-held competitions, coming together for the final phase at Art Basel where one is chosen as the winner of the national competition.
The Bombay Sapphire Artisan Series is held annually, co-sponsored by Bombay Sapphire Gin and Russell and Danny Simmons' Rush Philanthropic Art Foundation. Its primary goal is to provide exposure for artists in nearly all visual mediums, allowing them to compete for the chance to have their work showcased at the SCOPE Art Fair during Art Basel, the world's premier international art show for modern and contemporary works.
During the official regional competition in October of this year, all the finalists joined the latest winner, Bruns, a young artist from Maryland whose abstract entry, "Jackson's Painting," named for his one-year-old son, was selected, at the Northwest gallery.
"Winning and having a chance to have my work shown at Art Basel was a huge dream of mine," Bruns gushed, briefly explaining how his newer pieces on shaped panels grew out of his admiration for architectural shapes. "It's form following function," he explained, "Building the surface dictates the imagery itself. Trying to get an image to wrap around, breach the borders and cover the surface has been a challenge for me," he added. "Teaching myself to use spray paint was new."