Bombay Sapphire Series Celebrates Four Years in Exhibit of Winners Past and Present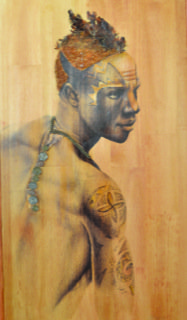 But Bruns is no amateur artist. The Maryland-based artist and teacher is the founder/director of NIH Arts and he manages the Yellow Barn Studio and Gallery in Glen Echo, Md.
Last year's winner, Al Burts, whose work traveled to Miami for the SCOPE Art Fair, said he is now represented by two galleries in Florida. Stan Squirewell's digitally-manipulated photographic images have been reproduced on T-shirts for the Bombay Sapphire Artisan Series and widely distributed. Internationally recognized artist and art teacher Michael Platt recently exhibited in Paris, demonstrating the goal of the competition to gain exposure for the winners.
"The benefit [of the competition has] allowed us to grow nationally with the artist as well," Davis added. "The artists can build on their career, and their work is seen nationally and internationally." Last year, Rush Philanthropic sponsored a video featuring the competitors and their work, and featured a segment on Burts in his studio.
As the competition grows in recognition around the nation, the field of artists entering continues to increase. "I am not sure how long the partnership will go on for," Davis concluded, "but for now, we are the only gallery that hosts the show in the region."
"Explorations," featuring Michael Platt, Stan Squirewell, S. Ross Browne, Al Burts and J. Jordan Bruns, remains on view at International Visions Gallery, 2629 Connecticut Avenue NW through Jan. 25, 2014. Visit www.inter-visions.com for gallery hours and information on related programs and upcoming exhibits.