LEON: The Day Santa Really Went Black
Dr. Wilmer J. Leon III | 12/23/2013, 3 p.m.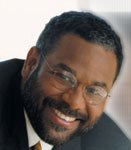 In his book Chains and Images of Psychological Slavery Dr. Na'im Akbar writes, "The ultimate story is that the image or concept of God being like a particular people endows them (in their mind) with an unnatural perspective on themselves and others." Akbar continues, "The problem that had been created for the European American mind, which has led him to become an imperialist, a slave maker, a colonialist, an oppressor around the world, is rooted in this idea that made him (or her) believe that he was the Caucasian image that he had identified as god."
It's the use of and belief in these images and the perpetuation of their converse that has led to and continues to foster the negative stereotypes of people of color. White is good; Black is bad. White people are safe; Black people are criminals. White people are virtuous; Black people are immoral.
It's the belief in these images and stereotypes that has led to Racial Profiling, Driving While Black, Shopping While Black, and Stop and Frisk. It's the belief in these images and stereotypes led to Oprah Winfrey complaining that a store clerk in Switzerland did not think she could afford a $38,000 handbag or college student Trayon Christian being arrested in Barneys New York for purchasing a $350 designer belt with his own debit card; even after he showed identification to the store clerk and the police.
In her own subtle way, Megyn Kelly was defending the practice of racist imagery and stereotyping that led to the murder of Treyvon Martin and the shooting deaths of Oscar Grant, Sean Bell, Amadou Diallo, and police officers Cornell Young, Jr. and William Wilkins, Jr. to name a few.
Imagery is important and images are powerful. Why was it such an issue at our house on Land Park Drive when Santa went Black? As we celebrate this holiday season, what's wrong with Jesus being Black?
Oh, wait. If you believe in the Bible and not Hollywood I think he was. Revelations 1:14-1:15 (describing Jesus) "His hairs were like lambs wool…His feet were like burnished brass." Sounds like a brotha' to me.
Merry Christmas Megyn Kelly and to all a good night!
Dr. Wilmer Leon is the Producer/ Host of the Sirius/XM Satellite radio channel 110 call-in talk radio program "Inside the Issues with Wilmer Leon" Go to www.wilmerleon.com or email:wjl3us@yahoo.com. www.twitter.com/drwleon and Dr. Leon's Prescription at Facebook.com © 2013 InfoWave Communications, LLC