LETTERS TO THE EDITOR: Hannah Hawkins is a Shining Star
12/23/2013, 3 p.m.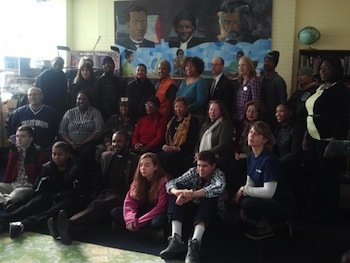 I just wanted to take the time to thank you for the heartwarming article, "Newtown Victims Remembered," that's in the Dec. 18-24 edition. I think it was a wonderful idea for some of the victims' loved ones and others who traveled to the District on Dec. 12 for the remembrance vigil, to also volunteer at the Children of Mine Center in Southeast.
The center's operator, Hannah Hawkins, has saved the city millions of dollars by opening her heart and offering what resources she has, year-round to hundreds of youth and families who've lost loved ones to gunfire and other senseless acts of violence.
Ms. Hawkins, who opened the center on Maple View Place more than 30 years ago, has run her organization solely on contributions from a few churches and the efforts of caring volunteers. In doing so, she has provided a safe haven for children to come after school for hot meals, help with homework and to share their loss with people who are genuinely compassionate in helping these – oftentimes, scared and scarred – youth to cope and heal.
Ms. Hawkins deserves the city's applause for the commendable work she's doing that embraces the grief-stricken in nearby Maryland and Northern Virginia as well. With the holiday season upon us, she's the epitome of a shining star in the District of Columbia.
James Carter
Washington D.C.
The Informer Goes the Extra Mile
As the year quickly draws to an end, my wife and I who are senior citizens, have thoroughly enjoyed reading The Washington Informer. It's always chock full of thought-provoking articles and commentary, while offering the latest in high-quality arts and entertainment. And, of course for me, John DeFreitas' sports recaps and dramatic photos are always exciting components.
This summer was a particular exciting time for us to have read The Informer, as we couldn't get enough of the in-depth coverage on the March on Washington. Then, just two weeks ago you gave us home-run reporting with the outstanding memorial to the late Nelson Mandela. Needless to say, we are holding on to that issue and the March on Washington supplements to pass on to future generations.
What I'm saying is that The Informer also goes the extra mile to inform and educate its readers with articles that treat controversial issues with impartiality and providing a forum for divergent opinions, all the while promoting the great city of Washington, D.C.
In our travels, we have never come across another large-city newspaper as well thought-out and put together as The Informer – especially one that consistently reflects positively on the African-American community.
Keep up the good work, because we definitely look forward to all your newspaper has to offer in the coming year.
David and Stella Wilson
Capitol Heights, Md.