Local Activist Gives Food, Toys to Families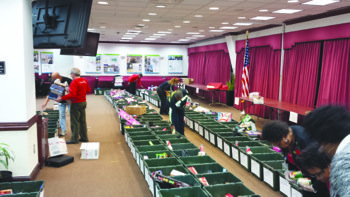 Local community organizer Charles 'Chuck' Hicks has hosted lavish Christmas parties in the D.C. metropolitan area for more than 20 years. The only caveat: guests must bring toys and books or donate money for children and families who would not otherwise have gifts and goodies for the holidays.  
Throughout much of the morning of Saturday, Dec. 14, Hicks and more than 40 employees from the DC Water and Sewer Authority (WASA) and local social services agencies organized and packaged donations at DC WASA headquarters in Southwest before delivering them to more than 100 families living in the District.
"One of the reasons I do this is because I never had a bad Christmas," said Hicks, 66, founder of Bread for the Soul, a Southwest-based nonprofit that provides emergency assistance to low-income families that often includes food and clothing. "Books are also a part of the Christmas packages because we want to encourage reading. I can't imagine waking up on Christmas morning and not having anything," said Hicks who lives in Southwest.
Volunteers loaded green bins containing a whole chicken, frozen vegetables, pastries, and cereal as well as action figures, dolls, basketballs, footballs, toy cars, board games, blankets, and socks, into cars and trucks. More than 10 drivers then delivered the bins to residents throughout much of Saturday morning and afternoon. Upon delivery, drivers chatted with family members and asked whether they needed additional assistance. 
Deborah Cole, a DC WASA employee who coordinated the volunteer activity, said that seeing the positive reception from members of the community compelled her to participate in the food giveaway year after year.
"The feeling of being able to help the less fortunate keeps me going," said Cole, 52. "It's very tiring but at the end, you know that you've put a smile on the kids' faces when you've given them a toy for Christmas. There's nothing like the feeling of knowing that you helped someone enjoy the holidays," said Cole who lives in Bowie, Md.
Shontae Pearson, a local mother of two, expressed her gratitude upon receiving two bins filled with food and toys early Saturday afternoon. She said that long-term unemployment coupled with the stress of meeting the financial obligations of caring for her bedridden mother threatened to place a damper on holiday plans. 
"My mother has had cancer for six years and I don't have the funds to make ends meet so the food and toys are very helpful for me," said Pearson, 37. "I plan on putting together a Christmas dinner and saving some food for my family to eat from day to day," said Pearson who lives in Northwest. 
In the winter of 1990, Bread for the Soul hosted its inaugural food and toy drive at Hicks' residence, attracting more than 150 guests. The nonprofit initially sent donations to city orphanages and later expanded delivery to children infected with the HIV/AIDS at the height of its outbreak. In recent years, the D.C. chapters of the American Federation of State, County, and Municipal Employees (AFSCME) and National Association of Government Employees (NAGE) have joined in the philanthropic efforts, often supplying the manpower to package and deliver the food and toys. The D.C. Public Library system and local independent radio station WPFW 89.3 FM has also provided resources.