Local Activist Gives Food, Toys to Families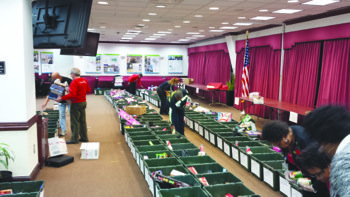 "We have people who lost their jobs and incomes so I love when [these kind of initiatives] work," said Yolanda Morris, 51, a social worker at Regional Addiction Prevention, Inc., a Northeast-based substance abuse treatment center. "Families become stable and that works for me. The lower you are on the totem pole, the less you get. Unless a famous person's child goes through it, you wouldn't hear about [poverty]. We are often the forgotten people," said Morris who lives in District Heights, Md. 
DC WASA employee Terrence Hunter drove around the District and delivered toys and food to families – it's his fifth consecutive year. The self-proclaimed human Global Positioning System (GPS) spent much of Saturday morning guiding volunteers as they sorted bins by District quadrants and neighborhoods. His interaction with different families in the District has become an experience that he looks forward to every year. 
"The thrill of giving back to the community that I live in keeps me coming back," said Hunter, 39. "It's addictive giving back for the holidays. Deborah [Cole] and I talk every year and she lets me know when to come down to organize and transport the toys and food. We really need good people like Chuck [Hicks] to keep this going for years to come," said Hunter who lives in Southeast.