Maurice Hines Taps Down Memory Lane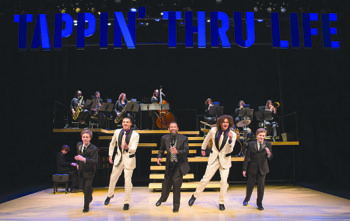 Performing in the nation's capital has always been akin to being at home, said acclaimed tap dance star Maurice Hines.
"Every time I come here, I find that the audience is so friendly, when I say hello, they say hello right back. It's a love affair," said Hines, a regular presence on the District's performing arts scene dating back to the 1990s when he appeared in "Guys and Dolls," at Arena Stage in Southwest.
Hines returned last month to Arena Stage, which in 1967 became the first regional theater to transfer a production to Broadway with "The Great White Hope," starring James Earl Jones.
The new show, "Maurice Hines is Tappin' Thru Life," runs through Sunday, Dec. 29 and recounts his many memories of tap dancing with his late younger brother Gregory Hines and the many celebrities the duo worked with, including the late Sammy Davis Jr., Lena Horne and Frank Sinatra.
The show also features music that honors those whom the Hines family had personal connections with including Horne, Nat King Cole, Ella Fitzgerald and there's even a nod to Luther Vandross, who Gregory Hines once shared a concert stage during a Vandross performance.
Naturally, Maurice Hines said there's a moving tribute to his brother, who died after a long bout with cancer in 2003.
The show also includes performances by John and Leo Manzari and Max and Sam Heimowitz, 13-year-old tap-dancing twins from the District.
John Manzari, 21, and Leo, 18, earned Helen Hayes Award nominations for their performance alongside Maurice Hines in, "Sophisticated Ladies."
"This is a tribute to my family, my mother and father and my brother, Gregory, all of whom have passed," said Hines, 70. "I wanted to feel Gregory's presence on the stage with me. It's very emotional, but it's also uplifting."
Gregory Hines, who died at the age of 57, starred on Broadway with his older brother in, "The Girl in Pink Tights" in 1954 and he earned Tony Award nominations for "Eubie!" in 1979, "Comin' Uptown" in 1980 and "Sophisticated Ladies," in 1981.
He won the Tony Award for "Jelly's Last Jam," in 1992.
While he and his brother both proved to be accomplished dancers, Maurice Hines said he's surprised that their vocal prowess caught many off guard.
"Sammy Davis Jr. always told us to make sure we did more than one thing and did it well," Hines said. "People don't know that Ella Fitzgerald was a great jitterbug dancer and even Lena Horne was an accomplished dancer. We never thought of ourselves as one-dimensional."
In fact, during Hines' show at Arena Stage, the acclaimed entertainer doesn't introduce tap dancing until the third act of the 90 minute show.
"We couldn't be more enthusiastic to welcome Maurice back to Arena Stage," said Artistic Director Molly Smith.
"He dazzled us with his charm, charisma and flair in 'Sophisticated Ladies,' and we expect nothing less this time around as he gives us an intimate look at his childhood growing up with his brother Gregory and their sizzling career in show business."