Maurice Hines Taps Down Memory Lane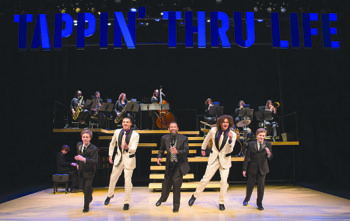 Nine members of the DIVA Jazz Orchestra, an all-female ensemble, back Hines in the production directed by Jeff Calhoun, an associate artist at the Ford's Theatre in Northwest.

"Having begun my career at the age of 16, tap dancing with Ann Miller, you can imagine what an honor it is to be working with Maurice Hines," said Calhoun, 53. "Maurice is not only one of the finest song and dance men of our time … He is that rare breed whose tongue is as facile as his tapping feet. Maurice is a first-rate life-enhancing entertainer."
Photos of his late parents, Alma and Maurice Sr., as well as those of he and Gregory illuminate the stage.
Hines provides the audience an oral dialogue on how his parents, particularly his mother, inspired the brothers to go into show business.
"We grew up in Harlem and we'd go to the store and people would look at us and my mom would go home and tell our dad that they had two special kids [who] had something," Hines said.
Eventually, the Hines brothers would go on to model children's clothing and, later, the two appeared on "The Tonight Show Starring Johnny Carson."
"If it weren't for Johnny Carson, we wouldn't have the careers that we have," Hines said. "After we did his show, we had every main room in the world."
Its memories such as those that highlight the Arena Stage show, he said.
"It's so important that everyone see the show, because I don't like talking about it, I just like performing. But one thing that I do bring out in the show is when my brother and I met Judy Garland and [performed] with her."
Because Garland, a screen and stage legend, rarely attended show rehearsals, the Hines brothers often would practice their routine with her choreographer whenever they were scheduled to perform with the three-time Academy award nominee.

"We didn't really meet her until she actually walked on the stage. And so, the first time Gregory and I did the number, she just jumped on the stage," Hines said.
"She said, 'Hi, I'm Judy Garland.' And I said, 'Hey, Judy, I'm Maurice. This is my brother Gregory. She fell in love with us.'"
"Maurice Hines is Tappin' Thru Life" runs through Sunday, Dec. 29 at Arena Stage at the Mead Center for American Theater, 1101 6th St. SW. Tickets are $50 to $99. For tickets, call 202-488-3300 or visit www.arenastage.org.