D.C. Political Roundup: Mendelson Networks at D.C. Council Party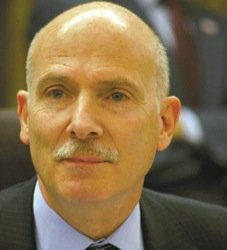 D.C. Council Chairman Phil Mendelson (D) may seem to be a bit stiff to some District residents but he showed that he can "cut a rug" with the best of them.
Mendelson jammed with dozens of council staffers, colleagues and guests at the annual D.C. Council holiday party that took place on Dec. 19 at the John A.Wilson Building in Northwest. In the past, council chairs addressed the crowd to thank them for coming, but Mendelson broke tradition this year.
"I don't think anyone wants to me hear me say anything," he said.
D.C. Mayor Vincent Gray (D) joined Mendelson with fellow mayoral competitors D.C. Council members Jack Evans (D-Ward 2), Muriel Bowser (D-Ward 4) and Vincent Orange (D-At Large) at the festive event. D.C. Council members David Catania (I-At Large), a possible mayoral hopeful in 2014, attended the party as did D.C. Council members Mary Cheh (D-Ward 3) and Anita Bonds (D-At Large) and Yvette Alexander (D-Ward 7).
Mendelson had a crowd of onlookers as he danced along with others, to such tunes as the "Cha-Cha Slide Dance." However, he also engaged in one-on-one conversations with Gray, 71, Bowser, 41, and Cheh, 63.
Cheh waltzed into the party waving her arms in the air and swinging her hips from side-to-side. She delighted many by dancing with two homeless activists.
Bowser let loose a few times with short dance steps but stayed on message that she's the best person to vote for in the upcoming Democratic Party mayoral primary that will take place on Tuesday, April 1, 2014. She stressed her ideas on making each junior and middle school in the city academic replicas of Alice Deal Junior High School in Northwest and that school children should be able to ride the Metro bus and rail free of charge.
Bowser also wants to extend the age eligibility of the District's youth employment program.
"I think 24-year-olds need to be included in the program," Bowser said. "They are the ones [who] really need jobs."
Bonds, 68, didn't dance but bobbed her head to tunes she enjoyed. She said that her bill to provide property tax relief to 75-year-olds is a start and she hopes to extend that benefit to 70-year-old residents soon.
Orange, 56, worked the crowd and reminded people that he authored the recent minimum wage legislation and other council members followed his lead.
Some Christmas celebrations at the Wilson Building in the past have been extremely low-key, dignified events with Christmas carols. This year, tunes that people easily danced to, such as "Wobble Baby," carried the night, and staffers thoroughly enjoyed themselves.
Shallal Slams Opponents
D.C. Mayoral candidate Andy Shallal said that the play-for-pay culture at the John A. Wilson Building in Northwest needs to stop. Shallal, 58, responded to news that some of his competitors for mayor – D.C. Council members Vincent Orange (D-At Large), Jack Evans (D-Ward 2) and Muriel Bowser (D-Ward 4) – voted on a parking meter contract for a lobbyist who had donated to their campaigns in the past and continues to contribute to their current campaigns.
"Once again, some of our leaders in the D.C. government have cashed in their integrity to serve special interests instead of the public," he said. "Once again, they have shown the pay-to-play culture rules the District government. How can voters trust any of these candidates if their campaigns are being bankrolled by donors who expect political favors in return?"
Shallal said that his opponents could have taken the high road, but chose not to do so.
"Voters can see through the hypocrisy, and they are looking outside of the Wilson Building for new leadership," he said.