New Girls' Program Unveiled at Holiday Tea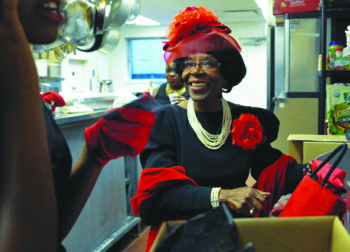 More than 150 people, primarily pre-teen and teenage girls accompanied by their teachers, parents or grandparents, recently gathered at tables draped in white linen inside the District's Woman's National Democratic Club dining room in Northwest. They sipped specialty teas named "Oh Christmas Tea" and "Figgie Pudding" poured from silver tea pots, and nibbled on scones and other tea party fare.
Although participants sported tea party hats and donned holiday reds, the event wasn't just about tea or the holidays. Sponsored by the District-based nonprofit High Tea Society-Girls Connected, a mentoring organization that deals with economically and socially challenged girls ages eight to 18, the event turned out to be the highlight of the season for many. The party spotlighted the organization's new program for middle school girls, MINE ("Motivational Inspirational Non-stop Exposure, Experience").
"We mentor District public school girls in Wards 6, 7 and 8," said retired District Superior Court Associate Judge Mary Terrell, who founded The High Tea Society-Girls Connected in 1997. Through teas and programs, the organization reinforces social and coping skills, builds girls' self-esteem and promotes academic achievement and appropriate behavior.
"We were getting requests from some of the schools to start a program for middle school girls. We're seeing a lot of behavior problems in this age group," said Terrell. "Many are being disruptive, disrespectful, getting into fights. Girls are very influential, not only among themselves, but among boys, families, and communities. If one girl is disruptive, her whole group will follow her in that behavior."
MINE joins other High Tea Society-Girls Connected programs such as Teaching Thru Tea, its signature multi-year, intensive youth development program; S.T.A.R.S. ("Sophisticated Talented Articulate Responsible"), an in-school program based at Anne Beers Elementary School in Southeast and Dorothy Height Community Academy Public Charter School in Northwest; and Tea on Wheels, which teaches business marketing and management through tea party catering.
Girls between 13 and 15 years old will learn positive and appropriate behavior through MINE. Adult mentors will also teach them healthy eating habits and nutrition, how to take better care of their hair, complexions and overall appearance, and physical exercise. They will learn work readiness and entrepreneurship, performing arts, public speaking, and writing, as well as basic etiquette and civility, the cornerstones of The High Tea Society-Girls Connected.
A group of 14 girls from Walker-Jones Educational Campus in Ward 6 on New Jersey Avenue in Northwest are the first MINE "protégés" as The High Tea Society-Girls Connected calls new members. They were introduced during the holiday tea.
"I've liked The High Tea Society-Girls Connected ever since I first heard about it," said Giovanni Scarboro, 35, who teaches English to the school's seventh and eighth graders. Her students are MINE inductees. "It gives girls the opportunity to experience something different (from what they know in their neighborhoods). It teaches them how to be ladies."
Amon Payne, 10, a Ward 7 resident who is in fifth grade at Tree of Life Community Public Charter School, said she enjoys being in The High Tea Society-Girls Connected. "They (mentors and volunteers) teach us how to be ladies and how to be proper," she said. "And you get to meet new people every day."