P.G. County Councilwoman Gives Residents Year in Review
Toles Highlights Legislative Session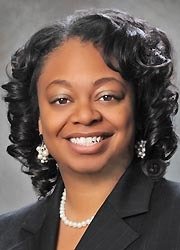 Quality developments, improvements to area community centers, schools and public safety top the highlights of a legislative year roundup given by Prince George's County Councilwoman Karen Toles to her constituents.
Toles (D-District 7) of Suitland met with constituents at the Hillcrest Heights Community Center on Dec. 17 to give a progress update on what was accomplished during the year by the county council and in Annapolis. Toles's district includes Capitol Heights, District Heights, Hillcrest Heights, Marlow Heights, Seat Pleasant, Suitland, Temple Hills and portions of Forestville and Oxon Hill.
"The council is in session year-round. We do a lot of work in the community," she said. "We have made a great deal of progress in District 7 this year and it is important to update the community on our collective accomplishments and how we intend to build on that momentum as we move into the coming year."
Toles stressed improvements made addressing crime in the community, which includes a decrease of up to 25 percent in robberies, burglaries, and thefts in areas within her district. Toles said decreasing crime goes a long way to help attract quality businesses and development to the district.
"Public safety is crucial to the development we want to see in Prince George's County," she said.
Sen. C. Anthony Muse (D-District 26) of Fort Washington, whose legislative district overlaps with Toles's, highlighted progress made at the state level in the past eight years to secure funding for the community, including $1 billion for county schools, $200 million for a regional medical center in Largo and secured funding for improvements to Route 210 (Indian Head Highway)
Those battles were hard-fought in Annapolis, Muse said.
"It's been a tough eight years," he said. "There [were] controversial issues. There were emotional issues."
For more Prince George's County/Maryland news, follow @JoshuaGarnerDC on Twitter.