Rep. John Lewis Faces History at Open House
Congressman Set to Travel to Ireland with Nettie Washington Douglass
Floyd Nelson Jr. | 12/24/2013, 11:27 a.m.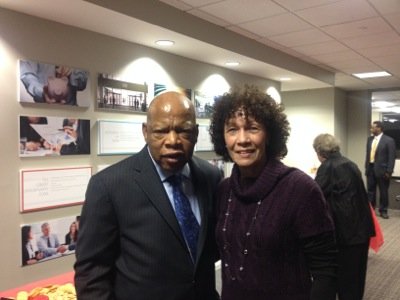 When U.S. Rep. John Lewis invited constituents of his congressional district in Georgia to a open house for his new office in the Equitable Building in downtown Atlanta recently, he didn't know he would be meeting with history in the form of Nettie Washington Douglass, the great-granddaughter of Booker T. Washington and the great-great-granddaughter of a very well-known Washingtonian — Frederick Douglass.
"Growing up in rural Alabama, we had very few books in our home, but I read about Frederick Douglass and Booker T. Washington and when I became involved in the civil rights movement, I used to quote Frederick Douglass," Lewis said during the Dec. 20 event. "[Douglass] said, in effect, without struggle, there cannot be any progress and it taught me, it imbued in me, that the struggle is an ongoing struggle and it's not just a struggle for one day or one week or one month or one year it is the struggle of a lifetime or many lifetimes."
Douglass, chairwoman and co-founder of the Frederick Douglass Family Initiatives, said she was deeply honored to meet with Lewis.
"Congressman John Lewis is a global leader whose life has served to advance all of humanity forward," she said. "Like Douglass and Washington, my ancestors, Lewis continues to be what my great-great-grandfather Frederick Douglass said we need: 'the storm, the whirlwind and the earthquake.'"
The Frederick Douglass Family Initiatives (fdfi.org) is an abolitionist organization that combines lessons from the legacies of Frederick Douglass and Booker T. Washington to fight human trafficking or modern day slavery through unique education programs.
Douglass said the organization is indebted to Lewis for his part in honoring Frederick Douglass with a statue that stands in Emancipation Hall at the U.S. Capitol.
During their meeting in Atlanta, Lewis and Douglass discussed their upcoming trip to Ireland, where they both will honor the legacy and work of Frederick Douglass and Ireland's "great liberator" Daniel O'Connell.
The Frederick Douglass/Daniel O'Connell Project, organizers of Lewis and Douglass' visit to the Emerald Isle, is a living legacy to the leadership of Douglass and O'Connell and the causes they championed by strengthening the bonds of friendship between Ireland and the United States, encouraging greater understanding between the diasporas of Africa and Ireland in America, and fighting injustice and human rights abuses throughout the world.
In 1845, Frederick Douglass sought refuge in Ireland following the publication of his controversial anti-slavery memoir "The Narrative of Frederick Douglass, An American Slave."
Don Mullan, author, humanitarian project developer and media producer, wrote, "It was at the beginning of a two-year tour of Britain and Ireland, before returning to the United States where he [Frederick Douglass] would become a colossus in the long and torturous struggle to end American slavery and sow the seeds for the modern Civil Rights Movement. Ireland welcomed Douglass with an embrace that was to transform his consciousness and leave an indelible mark on his world view. He had come as a single issue campaigner, hoping to garner support for the abolitionist movement back home. When he departed, he left as an internationalist, determined to be the advocate and champion of the downtrodden the world over."
Lewis, who is expected to give the inaugural address at the Douglass-O'Connell event in Dublin, lauded the historical figures during the open house.
"Every so often, history — or you can call it fate, but I call it the spirit of history — tracks down individuals to play a role and use people like a Douglass or Washington or like a Martin Luther King Jr. or Nelson Mandela or —"
Douglass emphatically interjected, "Or like a Congressman John Lewis."