DC Chamber Looks to the Future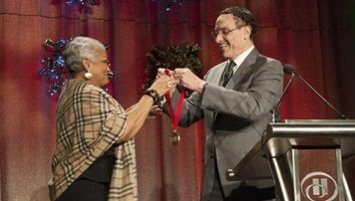 "The chamber has been and always will be a focused leader," Lewis said. "We bring power and influence, products and services to consumers. [The upcoming year], 2014 is the first year of our next history, era, period. We must make skillful decisions, use our collective wisdom, have candid, open conversations and support each other.
"Let's reach for the next level and show D.C. and the country what the chamber can be," he said.
The presence of Judy Smith, America's premier crisis management guru and noted fixer, created a buzz in the crowd. She acknowledged during her remarks that corporations, politicians and high-profile celebs have her on speed-dial. And in addition to her expertise in her chosen profession, she is the person on whom "Scandal's" Olivia Pope is modeled. "Scandal" is one of the country's most popular dramas and on the night the program airs, activities — other than staring at the television screen in millions of households — come to a standstill.
"I have 10 minutes to say something smart and witty, I have none. I hope it comes as a surprise to you that I didn't sleep with the president. And moving dead bodies? Not me," Smith quipped.
She recently authored a self-help book, "Good Self, Bad Self: Transforming Your Worst Qualities into Your Biggest Assets," and at the luncheon, a number of guests received autographed copies.
Smith, 55, a native Washingtonian and graduate of the Academy of Notre Dame, said it's always good to be home and thanked the guests for supporting the show.
"It's more than a Northeast D.C. girl could ever ask," she said.
Smith, the ultimate Washington insider, then briefly recounted her climb to prominence.
"I worked at the U.S. Attorney's Office and moved down the road a little bit to the White House. I had a great opportunity to work on a whole host of crises. Then I went to NBC and got a chance to see how the other half lives," said Smith, president and CEO of Smith & Company.
She served as deputy press secretary and special assistant to former President George H.W. Bush and followed that with a stint as senior vice president of communications at NBC.
"We work with corporations, associations and individuals, most of the things you hear about, sex, corruption, drugs," she explained. "Ninety percent of our work comes from corporations seeking to maintain good brand (names) and reputations."
"Enron, BP offer lessons. A lot of national folks have us on speed-dial. I hope you can do the same. We have been at our downtown offices for 15 years."
For the past 20 years, Smith has represented everyone from Paula Deen, Michael Vick, Monica Lewinsky, Wesley Snipes and other high-profile clients but during the question and answer session Smith said there are limits to who she'll represent.
"There are some clients we absolutely wouldn't take — like the mayor of Toronto [Rob Ford]," she said.