D.C. Council Members Challenge Schools Superintendent Nomination
Dorothy Rowley | 12/27/2013, 10:29 a.m. | Updated on 1/6/2014, 1:08 p.m.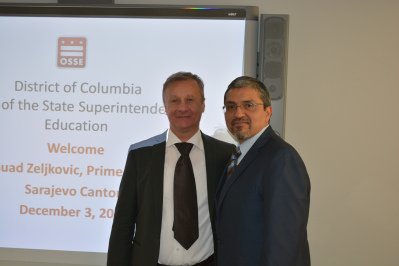 Jesús Aguirre is set for confirmation next month as D.C.'s new state schools superintendent, but two City Council members are opposing his nomination, saying he lacks innovation and experience.
David Grosso (I-At Large) and Tommy Wells (D-Ward 6) wrote to the chair of the Committee on Education, claiming Aguirre isn't qualified to run the Office of the State Superintendent of Education (OSSE) and requesting that his nomination not receive "passive" approval.
Aguirre, who had been director of the D.C. Department of Parks and Recreation since 2009, has been the acting chief administrator at the OSSE since October, when he was appointed by Mayor Vincent C. Gray. The following month, Gray nominated Aguirre for a four-year term, which will automatically begin in February sans adverse action by the council.
Grosso and Wells said they are concerned how Aguirre's limited experience might affect education policy. In their Dec. 17 letter to council member David Catania, who heads the council's education committee, the two said that in order to reject the nomination, they wanted a markup of Aguirre's past jobs, including what they describe as a lackluster performance when he headed DPR.
"He has shown a lack of management skills and an unwillingness to be responsive to Council requests as the head of the D.C. Department of Parks and Recreation," the letter stated. "These poor past performances have caused great concern about how he will perform as the new Superintendent at OSSE. Furthermore, his answers during Council member Grosso's one-on-one meeting and his performance at the nomination hearing have not allayed those concerns."
The letter also took Aguirre to task for his oversight of Tertulia Pre-College Community, a charter school in Phoenix that he founded with his wife, Monica Liang-Aguirre, in 1995. After managing the school for 10 years, the couple moved to the East Coast in 2006, citing personal reasons.
The school, plagued by poor academic progress and financial concerns, eventually closed in 2011 after its 15-year charter license expired the year before. Aguirre was reportedly president of the school board at the time of its shuttering.
Aguirre was not immediately available for comment, but stated in an email that while he and his wife had remained on the board of directors after they left Arizona, they "regrettably were not involved in the day-to-day management of the school."
Aguirre served from 2007 to 2009 as director of school operations for the District's public schools system, where he was largely responsible for overseeing the system's enrollment process. His wife has been the principal since 2008 at Oyster-Adams Bilingual School in Ward 3.
When Aguirre was appointed in September as interim superintendent, Deputy Mayor for Education Abigail Smith, whose office oversees OSSE, said Gray made the right choice.
"He is very clear on the importance of charter autonomy," she said, adding that his appointment would help steady the office after years of frequent turnover in leadership.
"He has the ability to make OSSE a stable place," Smith said.
And despite the opposition from Grosso and Wells, Aguirre also has backers at City Hall, including the mayor and Council members Marion Barry (Ward 8) and Yvette Alexander (Ward 7).