Radio One to Invest $40M in National Harbor Casino
Black-Owned Media Company Partners with MGM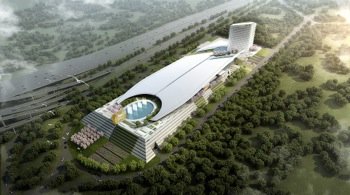 A planned casino in National Harbor recently approved by a state gaming commission now has a multimillion-dollar investment deal with a Maryland-based media company.
Radio One, the nation's largest African-American-owned broadcasting, has agreed to invest $40 million into MGM National Harbor, a planned $925 million resort and casino owned by MGM Resorts International.
Last week, the National Harbor emerged as site chosen by the Maryland Video Lottery Facility Location Commission to be the state's sixth gaming destination, along the banks of the Potomac River near Oxon Hill.
"Radio One is a great partner for us, because they have the capability to add a diverse perspective to our management of the project, help us communicate our vision to the community and give us the ability to build brand awareness in the important urban markets where they have a presence," said Jim Murren, CEO of MGM Resorts International.
Silver Spring, Md.-based Radio One owns WKYS, a D.C. urban radio station, TV One, a cable television network, and radio stations in markets across the country. The company was founded by Cathy Hughes in 1980.
For more Prince George's County/Maryland news, follow @JoshuaGarnerDC on Twitter.