Trent Williams Selected to Second Straight Pro Bowl
Four Redskins Selected as Alternates
12/27/2013, 5:34 p.m.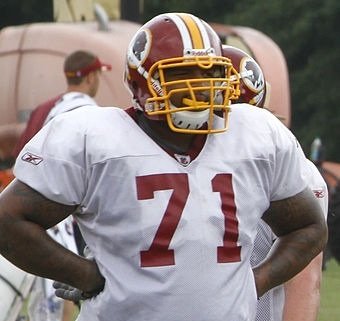 LOUDOUN COUNTY, Va. — The National Football League announced Friday that tackle Trent Williams has been selected to the 2014 Pro Bowl. The annual contest of the NFL's best will take place Sunday, Jan. 26, 2013 at Aloha Stadium in Honolulu.
In addition, wide receiver Pierre Garçon, cornerback DeAngelo Hall, running back Alfred Morris and linebacker Brian Orakpo were selected as alternates.
Williams, 25, is in his third season as an offensive captain for the Redskins. He has remained among the league's top left tackles in his first four seasons since being selected No. 4 overall in the 2010 NFL Draft.
"It's a blessing," Williams said. "I'm definitely excited about it… It means a lot. It lets me know my efforts didn't go unseen. I know my teammates see it and my teammates feed off of it, but I'm definitely proud to see that my peers around the NFL recognized that also."
Williams anchors an offensive line that has helped the Redskins rank second in the NFL in yards per rush (4.8) and fourth in the NFL in rushing yards per game (138.2). He has also helped running back Alfred Morris become the first Redskin to post consecutive 1,000-yard rushing seasons since Clinton Portis in 2007-08. The Redskins' offense is on pace to post consecutive 6,000-yard offensive seasons for the first time in team history and the fourth highest yardage total in franchise history.
"Trent through the years has become a true professional," Offensive Line Coach Chris Foerster said. "He continues to prepare and work hard every week. He takes on each game, his individual challenge. He's really developed his preparation every week."
After being selected to the Pro Bowl in 2012, Williams' selection this season is the 15th by a Redskins offensive tackle since the 1970 AFL-NFL merger, joining Chris Samuels (2001-02, 05-08), Jim Lachey (1990-91), Mark May (1988) and Joe Jacoby (1983-86). Between Williams and Samuels, Redskins left tackles have been selected to six of the last nine Pro Bowls. Williams joins Samuels, Lachey and Jacoby as the only Redskins tackles to make consecutive trips to the Pro Bowl since the merger.
With the Redskins' selection this year, the team has had at least one Pro Bowl player for 20 straight seasons. The only year Washington has not had a Pro Bowler in team history was 1993. Shanahan has now coached players responsible for 76 Pro Bowl selections during his tenure as an NFL head coach. Shanahan has had at least one player selected to the Pro Bowl in each of his 20 seasons at the helm.