Chef Hosts Party, Collects Thousands of Toys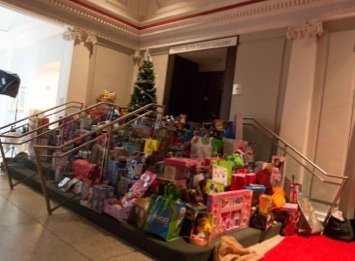 Thousands of industry magnates, elected officials, and socialites danced and enjoyed southern-style cuisine during a recent holiday soiree and toy drive at an historic library in Northwest.
The Dec. 19 red carpet event attracted more than 5,000 guests who donated new, unwrapped toys or purchased $200 VIP-level tickets for dinner and a celebrity meet-and-greet. Lance London, head chef and owner of Carolina Kitchen, a Hyattsville, Md.-based business, hosted the sixth annual Christmas gathering at the Carnegie Library at Mt. Vernon Square to help low-income families during the holiday season.
"I was always blessed to have people who worked wonders in my life and supported my endeavors," said London. "Every year I think about what I can do for children whose parents are going through hard times. I host this event where people can donate toys. We got thousands of toys and I've designated families I [will] give them to," said the Northwest resident.
Guests climbed the marble stairway that led into the massive Carnegie Library on a chilly December night for the holiday extravaganza. Men dressed in Santa Claus costumes greeted the crowd as they entered the grandiose hall – with three cash bars, two DJ booths, and a staging area for the evening's main event.
Distinguished guests included D.C. Mayor Vincent C. Gray, reality television star Omarosa Manigault, and legendary hip-hip artist and DJ Biz Markie. The evening's festivities also included performances by the Central State University Choir, the West Band, Kappa Alpha Psi Fraternity, Inc., Iota Phi Theta Fraternity, Inc., and R&B recording artist IhsAn Bilal.
During his short remarks, Gray, 71, complimented London and Carolina Kitchen's efforts in addressing the needs of low-income families during the holidays. London then presented the mayor with a key to the restaurant's newest location along Rhode Island Avenue in Northeast, slated to open in January 2014.
"I am so proud of Carolina Kitchen for its move into D.C., a growing and dynamic city," said Gray. "It's so wonderful that Lance London is giving back to the people in the city while [the District] is expanding so quickly," said Gray who lives in Southeast.
Cassius Ellis, a mortgage counselor, spent the night dancing, chatting with friends, and networking. He said that the charity event differed from others he's attended in the past.
"This is a more mature crowd than what I have seen in the D.C. area," said Ellis, 40. "I appreciate everything Carolina Kitchen does because I come from the inner city myself. I just hope they keep the momentum going because there are children out there that we don't know about," said Ellis who lives in Manassas, Va.
DeJaneé Fennell, Miss Black Maryland USA 2014, greeted and posed with guests for photos throughout much of the night. She praised London and Carolina Kitchen for its philanthropic efforts during her brief remarks.
"Every child deserves to wake up to a Christmas blessing," said Fennell, 22. "I believe that the biggest form of human kindness is the ability to share. Philanthropy is a way of sharing. It stems from love," said Fennell, who lives in Colmar Manor, Md.
London organized the inaugural holiday extravaganza and toy drive in 2008 after he befriended a woman who had fallen on hard times and struggled to purchase gifts for her children during the holiday season. After hearing her story, he immediately set out to organize a large-scale event, calling on fellow business leaders to provide financial resources to launch the party and toy drive.
Each holiday event since then has yielded thousands of donations. This year, London collected more than 5,000 toys which benefitted the National Children's Medical Center in Northwest as well as the Ronald McDonald House Charities of Greater Washington, D.C. in Northeast and the Trayvon Martin Foundation in Miami.
"The thing that most great businessmen understand [is] the importance of giving back," said London. "Through helping others, they help themselves. It doesn't hurt to have an event like this. People's hearts are open during the holiday season. In addition, we get to see each other and network. That's why you make it so extravagant," he said with a smile.