Around the Region: 2013 in Review
12/30/2013, 3 p.m.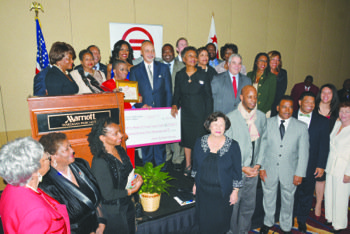 The nation's capital witnessed many local events that made 2013 quite a year. From shifting demographics to the arrival of major retailers like Wal-Mart to the region, this year proved a hotbed of news and newsmakers. The city's fight for independence coupled with issues of self-sufficiency positioned against reports of the city infrastructure's overall fitness, including the fire department, affordable housing, and a viable workforce. The Informer chronicled the debate over living wages versus big business interests and community needs, as well as the impact the government shutdown had on both local and federal employees:
DCTV Pays Tribute to Community Leaders
DCTV celebrated its 25th anniversary, while also naming an illustrious array of community leaders as 2013 DC Illuminators.The 2013 DC Illuminators are: Maudine Cooper, president and CEO of the Greater Washington Urban League for the past 20 years; William Lightfoot, local attorney, former D.C. Council member and one of DCTV's founders; Washington Informer Publisher Denise Rolark Barnes; Kojo Nnamdi; Angela Franco, president and CEO of the Greater Washington Hispanic Chamber of Commerce; Barbara Lang, president and CEO of the DC Chamber of Commerce; and Marie Johns, former deputy administrator of the U.S. Small Business Administration.The honorees, DCTV Chairman Kojo Nnamdi said, are individuals, who through exemplary careers, volunteerism and public service, worked to improve and enhance the overall well-being of the community.
Gray Supports Tougher Paraphernalia Law
D.C. Mayor Vincent Gray endorsed strengthening the District's 31-year-old drug paraphernalia law during a combined Ward 7 and Ward 8 community forum about sales of paraphernalia and synthetic drugs.
DHCD Auctioning Houses to District Residents
Two lucky District residents will become the proud owners of two new homes in a lottery drawing later this spring. If their names are drawn at the DC Housing Expo on Saturday, June 1, they will be able to buy a completely renovated home for 50 percent of the market value.
Langston Terrace Residents Celebrate Development's History
The Langston Terrace Dwellings in Northeast celebrated its 75th anniversary. Located at 21st and G streets – off the busy Benning Road corridor, it is distinguished as the oldest public housing complex in the Nation's Capital.
Streetcars Expected to Bring Jobs to the City
District of Columbia residents will have something to celebrate once the city's new streetcar system becomes operational this fall. Some will have an additional public transportation option, while for others, there'll be more employment choices for those seeking jobs.
District Residents Press for Statehood at Pre-March Rally
Hundreds of District residents attended an early morning rally leading up to the commemorative March on Washington to voice their outrage over their political rights being trampled upon and pledged to become far more proactive in their efforts to get a vote in the U.S. Congress and ultimately, statehood.
District elected officials and residents participated in the rally which took place at the District of Columbia War Memorial in Southwest on Saturday, Aug. 24. D.C. Mayor Vincent Gray (D) shared his memories of the original March on Washington on Aug. 28, 1963 with the crowd.
Seniors Surveyed on Making D.C. Age-Friendly
Along with the AARP-D.C. age-friendly city survey, "community consultations" or town meetings with seniors and other city residents convened in each District ward to solicit opinions, social network sites Facebook and Twitter are also used to poll seniors. A postage-paid postcard questionnaire mailed to AARP-D.C.'s 87,512 members in 11 chapters, will ask how they feel about their neighborhoods, and whether they want to be more politically engaged in making the District age-friendly.
Leggett Celebrates Pedestrian Safety Improvements in Wheaton
Montgomery County Executive Isiah Leggett today celebrated the completion of pedestrian safety improvements on Reedie Drive between Veirs Mill Road and Georgia Avenue in Wheaton that were installed by the Montgomery County Department of Transportation (MCDOT). The 800-foot stretch of road was targeted because it was designated as one of the county's "High Incidence Areas" (HIAs) – locations having the highest concentration of pedestrian collisions. Between Jan. 1, 2004 and Dec. 31, 2012, there were 20 pedestrian collisions including one fatality in the Reedie Drive HIA.