Lifestyle: 2013 in Review
12/30/2013, 3 p.m.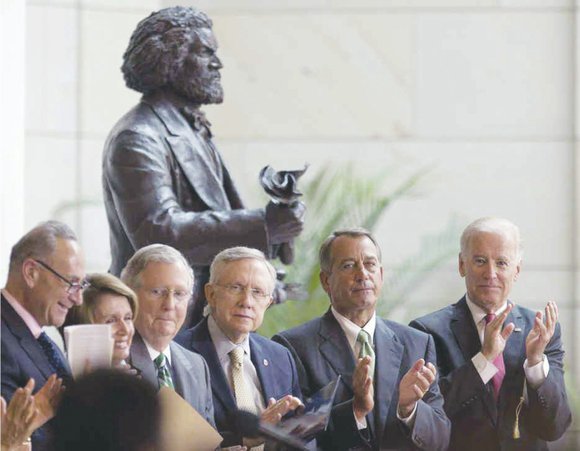 The Informer covered lifestyle and entertainment from around the globe in 2013 that included one-on-one exclusives with performers such as Idris Elba and Denzel Washington, and Black History Month celebrations in London, England. Additionally, The Informer spotlighted the eclectic arts scene in Washington, D.C. and the region, including music artists in genres such as hip hop (Common), R&B (Jill Scott, Diana Ross) and jazz (Gregory Porter), as well as museum and gallery exhibits, conversations with local and nationally-renowned artists, books, films, television, and the latest cars. The paper provided coverage of venue events and performances at Wolf Trap; the DC Jazz Festival; Filmfest DC and the H Street Festival:
Postal Service Releases Ray Charles Stamp
Rock and Roll Hall of Fame member and legendary "Georgia on My Mind" singer, the late Ray Charles, now appears on one of the Post Office's Forever Stamps. The Post Office continues to honor African-American legends and momentous events in black history, including the release last month of a civil rights stamp which followed those of Rosa Parks, tennis legend, Althea Gibson, and others.
Sculptor's Bronze of Douglass Finds a Permanent Home
For more than two years, the statue of Frederick Douglass stood in the foyer of One Judiciary Square in Northwest, destined for the Capitol but stuck in a political and legislative limbo. In June, after more than a decade of efforts to get a statue representing the District of Columbia in Congress' Statuary Hall, a 7-foot statue of Douglass, a renowned abolitionist, orator, author, and diplomat, was unveiled there.Vice President Joe Biden, House Speaker John Boehner, House Minority Leader Nancy Pelosi, D.C. Delegate Eleanor Holmes Norton, GOP Chairman Reince Priebus, Douglass descendants, and a host of D.C. politicos, luminaries and residents crowded into Emancipation Hall at the Capitol Visitor's Center for the unveiling.
D.C. Fashion Week 2013 Showcases Homegrown Talent
D.C. Fashion Week 2013, featuring the Spring and Summer 2014 Collections of designers from around the world kicked off its 19th cycle at the Woolly Mammoth Theater, Monday, Sept. 23, with an eco-friendly designer showcase. Innovative works, including dresses made of up-cycled cork screws and dolls by Isagus Extroversions, demonstrated how ordinary materials could be transformed into extraordinary works of wearable art.
Bill Pickett Invitational Rodeo Ropes in Crowds
Safeway and Upscale magazine partnered in September with the Bill Pickett Invitational Rodeo to bring the high-energy rodeo back to the D.C. metropolitan area. To the delight of audiences and rodeo fans, some of the nation's most skilled and entertaining African-American cowboys and cowgirls competed in such events as Bare Back Riding, Tie-Down Roping, Barrel Racing, and Bull Dogging.
Kinsey Collection Featured at Reginald F. Lewis Museum
Philanthropist couple Bernard and Shirley Kinsey spent nearly three decades gathering as many as 400 authentic and rare works of art, artifacts, books, documents and manuscripts, all which tell the often untold story of African-American achievement and contributions. The culmination of the collection counts as an impressive touring exhibition spanning more than 400 years of history aptly titled, "The Kinsey Collection: Shared Treasures of Bernard and Shirley Kinsey," which opened to the public at the Reginald F. Lewis Museum in Baltimore on Saturday, Nov. 2 and will be on display through March 4, 2014.