Lower Tolls Mulled for Md.'s ICC Highway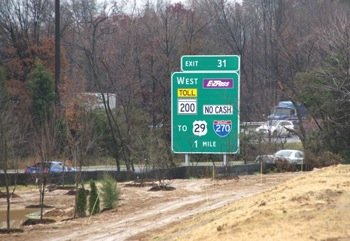 Could lower toll rates be on the way to Maryland's Intercounty Connector?
Lawmakers in Maryland are hoping to form plans to seek a reduction in tolls for the ICC, an 18-mile highway that stretches from Gaithersburg in Montgomery County to Laurel in Prince George's County, according to reports.
Officials hoped the $2.56 billion highway, which opened in 2011 after decades of planning, would reduce congestion along the Capital Beltway and provide a better connection between Interstates 270, 370 and 95. But while traffic along the new highway has grown, lawmakers said it hasn't done much to reduce traffic along the Beltway and are hoping lowers tolls will attract additional drivers.
"There are times when I don't see any cars [along the ICC]," Montgomery County Councilman Philip M. Andrews told the Gazette. "It's almost like a private road or airport runway."
A study released by the Maryland Transportation Authority found that reducing toll rates by 50 percent would increase traffic by 21 percent in 2015.
Costs for the ICC run about $8 between I-370 and I-95 for most two-axle vehicles including cars and trucks. The toll drops to about $6.40 during non-peak hours and is as low as $3.20 between 11 p.m. and 5 a.m.
Lawmakers have been making slight adjustments to the ICC since its inception. Earlier this year, the Maryland Transportation Authority approved a speed limit increase along the highway from 55 mph to 60 mph after a lengthy approval process.
For more Prince George's County/Maryland news, follow @JoshuaGarnerDC on Twitter.