National/International: 2013 in Review
12/30/2013, 3 p.m.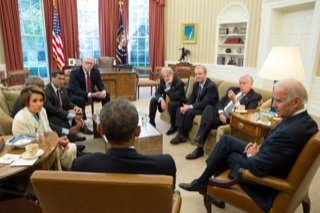 Democratic, GOP Squabbling Leads to Government Shutdown
The federal government shutdown at midnight Monday, the first time in 17 years. More than 800,000 federal employees were home Tuesday morning and an additional 1.3 million were working without the prospect of getting paid. With the government shuttered, government operations were slowed or stopped. About 3.3 million federal employees were told to stay home; the Meals on Wheels program, the Women, Infant and Children (WIC) program were also affected. At the National Institutes for Health (NIH), new patients would not be accepted into clinical research, but current patients continued to receive care. Meanwhile, NIH medical research was expected to be disrupted and some studies were to be delayed.
And furloughed federal workers feared they wouldn't get paid, unlike shutdowns in the past when Congress voted to pay furloughed workers retroactively. The U.S. military, police departments, the Border Patrol and other essential elements of the federal government are unaffected.
Evers Remembered at Arlington National Cemetery
A former U.S. president, the attorney general of the United States, a governor of Mississippi, members of the U.S. Congress and scores of guests honored the life and work of the late civil rights leader Medgar Evers at Arlington National Cemetery in Arlington, Va., on June 5 at a wreath-laying ceremony sponsored by the National Association for the Advancement of Colored People.
Deltas Converge on Nation's Capital
More than 40,000 members of Delta Sigma Theta, the largest African-American Greek-lettered sorority in the world, are expected to arrive in the District on Thursday, July 11, to help kick-off an eight-day convention celebrating the organization's 100th anniversary.
The predominately black sorority, whose more notable members included the late Shirley Chisholm, Ruby Dee Davis, and Dorothy I. Height, plan to hold various events in and around Washington, D.C., but the group's primary venue will be the Walter E. Washington Convention Center in Northwest.
"The women of Delta Sigma Theta have been and remain a vital contributor to the success of our communities and a defender of rights of all people for 100 years," said Cynthia Butler-McIntyre, the Delta's national president.
Fed Up With Schools, Chicago Kids Boycott State Tests
A group of Chicago students protesting the city's planned school closings and what they see as over-reliance on standardized testing boycotted the Prairie State Achievement Exam (PSAE) and demonstrated outside a school board meeting in May. "Today we are boycotting the second day of PSAE to show that standardized testing should not decide the future of our schools and students," one girl said at the protest.
Private Prisons Equal Big Business
Officials at various civil rights and watchdog organizations claim that private prison operators are using their political clout to help increase the prison population and to deny the release of many who are eligible for parole.
CBC Livid over Passage of Farm Bill
Calling it irresponsible and short-sighted, members of the Congressional Black Caucus reacted strongly to Congress' passage of the controversial Federal Agriculture Reform and Risk Management Act, also known as the farm bill. By a 216-208 majority party-line vote, House Republicans pushed through a revised farm bill that excludes nutrition programs, such as food stamps, which has helped to feed more than 47 million individuals and families throughout the country annually.