National/International: 2013 in Review
12/30/2013, 3 p.m.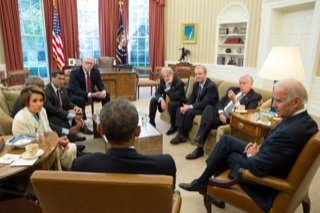 Bahamas Turns 40
Ambassador Dr. Elliston Rahming and Consul-General Paulette Zonicle took to the dance floor the first week of August, leading their Bahamian friends, colleagues, counterparts and supporters of the island nation in celebration of the Commonwealth of Bahamas' 40th year of independence. The island nation gained independence from Great Britain on July 10, 1973 led by the late Sir Lynden Pindling who became the country's first prime minister.
Millions Face Cuts in Food Assistance
In Michigan, 1.8 million people faced possible cuts in their food assistance benefits, when a temporary boost to the Supplemental Nutrition Assistance Program – or SNAP, formerly known as food stamps – was set to expire. All of the more than 47 million Americans, including 22 million children, who receive SNAP saw food assistance reduced, when a modest boost in benefits to SNAP recipients, which policymakers included in the American Recovery and Reinvestment Act to strengthen the economy and ease hardship, expired on Oct. 31.
Wilkins Nominated to U.S. Court of Appeals
There was universal praise in the African-American and legal communities following the nomination of U.S. District Court Judge Robert Wilkins to the U.S. Court of Appeals. In June, President Barack Obama presented Wilkins to fill one of three vacant seats. This court is considered by many to be the second most important in the country because of what People For the American Way describes as its "unique influence over the shape of our nation's laws, determining the meaning and even the constitutionality of federal legislation and regulation across a broad spectrum of issues: national security, campaign finance, voting rights, workers' rights, consumer rights, environment and energy policy, telecommunications and more."