Redskins, Shanahan Part Ways After Dismal Season
Stacy M. Brown | 12/30/2013, 11:15 a.m. | Updated on 12/30/2013, 7:49 p.m.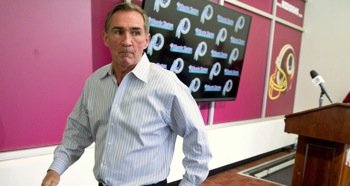 Daniel Snyder took a hard look at his team's performance, checked his bank account and decided that $7 million shouldn't stand in the way of giving the Washington Redskins a fresh start next year after a disappointing 2013 season that ended on Sunday, Dec. 29, with a loss against the New York Giants at MetLife Stadium in New Jersey.
Head coach Mike Shanahan, who's still owed $7 million on his contract, received notice from Snyder that the 20-6 loss to the Giants would be his last game with the Redskins, who were expected by many to compete for a Super Bowl title this year after winning their division in 2012.
"We thank Mike for his efforts on behalf of the Redskins," Snyder, 49, said in a news conference on Monday, Dec. 30, just one day after the season ended.
Snyder also announced that most, if not all, of Shanahan's coaching staff would be replaced.
"We will focus on what it takes to build a winning team, and my pledge to this organization and to this community is to continue to commit the resources and talent necessary to put this team back in the playoffs," he said.
Redskins' executive vice president and general manager Bruce Allen said he will scour the market for a qualified head coach to hopefully lead the team to a championship.
"We are going to take a smart, step-by-step approach to finding the right coach to return the Redskins to where we believe we should be," said Allen, 54. "We will analyze accurately and honestly all of the decisions that were made over the past year."
Prior to the game against the Giants, Shanahan appeared resigned to his fate. He expressed his displeasure with how the team has performed this year.
"You always want to compete and you're disappointed when you lose," said Shanahan, 61. "It's not a fun profession when you lose. To be in this situation is something I haven't experienced before so I'm very disappointed."
Shanahan's job security became a topic of widespread scrutiny because of the team's poor play and his rocky relationship with star quarterback Robert Griffin III, who gallantly returned from knee surgery in September but struggled throughout the season.
This year proved to be a huge step backward for the team, which went 10-6 a year ago and captured the NFC East division thanks in large part to Griffin, 23, who sparked a seven-game winning streak to conclude the 2012 campaign.
Griffin then suffered a devastating knee injury in the Redskins' playoff loss to the Seattle Seahawks.
Shanahan had been criticized for playing the banged-up Griffin in the Seahawks game after the then-rookie injured his knee a month earlier in a victory over the Baltimore Ravens.

Earlier this month, when Shanahan announced he would bench Griffin for the final three games of this year, many fans, media pundits and ex-players viewed the decision as the coach not only surrendering the rest of the season, but also inviting Snyder to fire him.